Course Details
New Baby and Dog? Help for New and Expectant Parents

AND
Enrichment for Dogs: Ditch the Bowl, Better Their Life!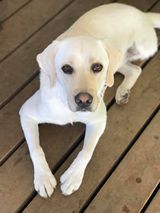 ---
Tania Lanfer - New Baby and Dog? Help for New and Expectant Parents
Congratulations! A baby is joining your family! What an exciting and wonderful time. But wait: how can your dog and your baby coexist safely and happily? Two different species living under the same roof might require some accommodation, some training, and lots of planning on your part.
There are a lot of strategies that I, as a dog training professional, incorporated with clients and also incorporated in my own life with my baby and my toddler to help us all succeed. This course is designed to help expectant parents, parents through adoption, parents through surrogacy, foster parents, and all the loving caregivers that come to this child's life.
I am so happy to announce this presentation and to help guide you during this transition time! In here you are going to find what I think it's important to set up your environment, your dog, your daily routine, and your baby up to success.
I divided the presentation in the following steps:
How to prepare your dog and your house while the baby is not yet here
How to train your dog to some of the behaviors that will really make your life easier
What to do when the baby arrives in your house
How to ensure safety when baby starts crawling
Setting up the environment to foster independent play for babies and toddlers
Setting up the environment to help foster parallel coexistence among dogs and babies
I am also going to touch on subjects like visitors in the house, dog body language, and some of the most common reasons dogs bite. Let me share with you what I learned in my past years as a mom, as an animal trainer, and as an observer of my children's forever evolving behaviors. I hope you can join us!
---
Sarah Stremming - Enrichment for Dogs: Ditch the Bowl, Better Their Life!
Our dogs are thinking beings with agendas and opinions. Many behavior problems arise when we ignore this fact and attempt to treat them like fuzzy couch ornaments. Leveraging their simple caloric intakes needs is a great place to start in offering them the brain candy they so desperately need. Daily enrichment activities, like food puzzles and scent games entertain wild puppies and keep older minds active. Dog is destructive? Provide ample shredding opportunities that are appropriate, inexpensive, and enticing to save your shoes. Dog barks incessantly? Scent-based enrichment turns off the voice because scenting and vocalizing are simply incompatible. Enriching our dogs' lives helps them to engage in fewer undesirable behaviors, and it helps them live happier more fulfilled lives. It doesn't take a lot of money or a lot of time to provide your dog with the mental stimulation he desires on a daily basis. Food, scent, and novelty based enrichment plans are all here for the taking!
---
Watch the Video Trailer with Sample Clips from Both Presentations:
---