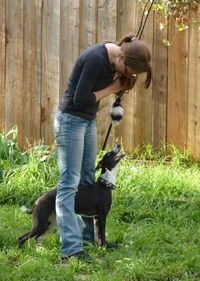 Amy Cook, Ph.D. (she/her) has been training dogs for over 30 years, and through Full Circle Dog Training and Play Way Dogs in Oakland, CA, has been specializing in the rehabilitation of shy and fearful dogs for 20 years. She is a Certified Dog Behavior Consultant through the IAABC, a longstanding professional member of the APDT, and was one of the first trainers nationally to become a Certified Professional Dog Trainer through independent evaluation. She is a graduate of the SFSPCA academy for dog trainers and has attended all 4 "chicken camps" in Hot Springs, AR, taught by Bob Bailey. Amy also owns the "shy-k9s" list on yahoo, a 4000-member group dedicated to the rehabilitation of fearful dogs, and has moderated there since 2001.
Amy has worked for the Berkeley-East Bay Humane Society, the San Francisco Animal Care and Control, and has provided behavioral evaluations for shelters and rescues throughout the Bay Area of California. She currently works with the anti-cruelty team at the ASPCA doing behavioral evaluations and psychological enrichment of the dogs seized in dog fighting, puppy mill, and hoarding cases.
Amy returned to school in 2006 to get her Ph.D. in psychology from UC Berkeley. Her research focused on the dog-human relationship and its effect on the problem solving strategies dogs employ. She has also studied causal inference in dogs and toddlers with Anna Waismeyer and Alison Gopnik, and currently works with Lucia Jacobs on dog olfaction. She has extensive experience as a graduate student instructor, having taught sections of Introductory Psychology (both in person and online), Human Emotion, Developmental Psychology, Social Psychology, Stigma and Prejudice, Statistics, Animal Cognition, and has taught Fundamentals of Psychology and Developmental Psychology as a full instructor.
Her dogs have trained, participated, and titled in rally, competition obedience, agility, nosework and barn hunt, but her dogs love agility best!
You can find out more about Amy at www.playwaydogs.com and on instagram at @doggeek and @playwaydogs
Pronouns: Amy goes by she/her.
This is Amy's signature Play Way class! Is your dog brilliant at home but shuts down at the show? Or does he bark and lunge at people or dogs on walks? Does she seem generall...
December 1, 2023
Is your dog worried about the noises around her? This class is for you! Whether the issue is in your house with your dog barking at the sounds outside, or you have a dog that ...
December 1, 2023
https://youtu.be/tNKvwjofJ8U Management for reactive dogs... and excited dogs, fearful dogs, worried dogs, reluctant dogs, anxious dogs, and any dog having trouble with envir...
February 1, 2024
This is Amy's signature Play Way class! Is your dog brilliant at home but shuts down at the show? Or does he bark and lunge at people or dogs on walks? Does she seem generall...
April 1, 2024
Training Videos on Demand
Is Your Dog Sensitive to Noises? Do booms and crashes send your dog into a barking fit? Does your dog dive for cover when she hears a microwave beep or t...
Living With and Training a Reactive Dog Is your dog barking and lunging when you're out on walks? Are you having trouble taking her anywhere, unsure of w...
How to Quiet a Barking Dog Your dog barks! Your dog barks… a lot! And maybe it's beginning to drive you to distraction! You're not the only one, so don't...
Have a question about an upcoming course taught by Amy? Not sure if your dog is suitable for a specific class? We welcome you to contact instructors by email to make sure the course is suitable for you and your dog.
Bogeyman has given us a renewed focus and energy for our obedience competition. Amy has such a great knowledge and ideas to help you work through any type of issue. You could see the dogs transform over the course of the class, as well as a plan for moving forward after the class. Melissa C
---
While working under Amy's guidance, I started to feel more confident about any potential triggers that we could come across. We started to enjoy our relaxed (!) walks together opposed to my dog being frantic looking for things to sniff, stare or pounce at. We learned so much in this class and will continue to practice our skills and grow confidence and appropriate behavior. Thank you, Amy! Anya K.
---
All lectures were clear and I admire Amy´s style of explanation and her remarkable power of observation and details. It was for the first time I understand clearly not only HOW to do it, but also WHY to do it.
---
Great class. Instructor answers all questions fully and clearly. Very thorough. Lectures leave little to question regarding her responses to students. I would take classes she offers in a New York minute.
---
Amy Cook is a master at explaining complex learning theory and then translating that theory into practical advice. This is not a cookie-cutter 'how-to' course, but a course that teaches you how to think about learning and to analyze for yourself. It improved my understanding of my dog and my training craft by leaps and bounds! Gay H.
---
Through Amy Cook's Learning Theory class I finally understand the 4 quadrants of operant conditioning and am better able to utilize them! I feel I got a good introduction to current scientific thinking and that I am in a stronger position to make better decisions in both training and behavior modification -- why something might work or why it might not work. Amy's friendly and personal manner seemed to bring forum participants together to deepen the class discussions. Sandy H