Course Details
This is Amy's signature Play Way class!
Is your dog brilliant at home but shuts down at the show? Or does he bark and lunge at people or dogs on walks? Does she seem generally stressed, whether frantic about it or quiet and vigilant? All of these common behaviors can be addressed through Therapeutic Social Play! For a pet dog, dealing with behavior challenges is a good idea. For a competition dog, it is non-negotiable. Our goal is to make your dog enthusiastic about performance (and life!), and connected to you and confident in your relationship!
Dr. Amy Cook will address the issue of fearful and reactive dogs, both in and out of competition. Rather than teaching you the behaviors that are required for success in the ring of any specific sport, this class will teach you how to make your dog comfortable, confident, and focused in a novel and challenging environments, which then can support your in-ring performances. Come learn about The Play Way!
Gold level participants will be personally coached on how to work through their individual issues. You'll spend the first part (or even half!) of class learning or improving your therapeutic social play so he can relax and have fun, and then for the remainder of the class, you'll learn how to apply that to your dog's situation through setups. Your dog will learn to look at his triggers in a new way, and play his stress away! This level is ideal if you need plenty of support getting a plan in place and applying it correctly, and if your dog can play with you at least a little bit at home.
This class is focused on the individual Gold level students. To gain the most value from this class, all students should commit the time to reading the advice given to several Gold level students throughout the class in order to create a workable plan for their own dogs. Many times, the gem you need for your own dog will be in the thread of someone else!
This class will have Teaching Assistants available in the facebook discussion group to help the bronze and silver students this term! Directions for joining can be found in the classroom after you register.
IMPORTANT INFORMATION:
This class has special enrollment for gold, and the enrollment instructions are gotten from Amy personally. To get these instructions, you must email and stipulate that you understand that the class focuses on social play as therapy, and that the issue you are hoping to address is not one involving aggression toward the owner or other family members, in-home dog-dog aggression issues, noise sensitivity, or resource guarding. The enrollment request should only be made between terms, so after the currently-running term ends (usually the 15th), but before the 22nd, when registration opens, you should contact Amy at rover@sonic.net and request this information, stating that you've read the above.

You'll be given special enrollment instructions, but that does not guarantee you a spot in the class. It may narrow the pool of potential students, but you still must be there when enrollment opens to try for a gold spot, and they sell out quickly.

If you have a question about the class and whether you should take it, you may email any time with those questions. Enrollment requests should happen between terms, as that's when that information is available.
The Bogeyman course is for dogs who either shut down or stress up when out and about, at a dog show or have a specific stress issue that affects an aspect of their lives. If your dog only has issues in the performance ring, the Ring Confidence class the one you want, rather than this one! Feel free to contact either Denise Fenzi or Amy Cook through their contact information in their instructor profile under the "Instructors" link for clarification on which class is the best option for you.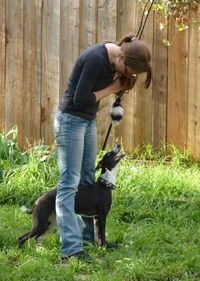 Instructor:
Amy Cook
Amy Cook, Ph.D. has been training dogs for over 25 years, and through Full Circle Dog Training and Play Way Dogs in Oakland, CA, has been specializing in the rehabilitation of shy and fearful dogs for almost 20 years. She is a Certified Dog Behavior Consultant through the IAABC, a