Course Details
Is your dog worried about the noises around her? This class is for you! Whether the issue is in your house with your dog barking at the sounds outside, or you have a dog that can't go out because buildings creak and doors slam, this class can help. If your dog barks at what he hears and stresses up, or shakes and withdraws and stresses down, we can work to make him feel more at ease. Noise issues tend to get worse if we don't step in and help, so dogs really need us to have a solid plan to intervene and help them through this emotional challenge!
Teaching Approach
This class is linear in approach, both in lecture material and in forums. We follow a framework, step by step, each dog achieving each step before going forward. This is not a heavy concept class, and is skills based, with all dogs doing the same material. The class assumes your dog has a strong love of at least one kind of reinforcement (food, toys, etc). You will not need to recreate the sound your dog fears at any point in the class, though if you can, we might reach the point of using it, or a reasonable facsimile, by the end of the class. We spend most of, or all of, the class doing the foundation work that makes it possible to face any kind of startle and any kind of sound. Foundation requires repetition, so you will be expected to set aside small amounts of time daily rather than doing a lot of work once or twice a week. Repetitions are what we need to make new understanding and new habitual responses in your dog! Silvers and bronzes should be able to coach themselves without too much trouble.
This class will have a Teacher's Assistant (TA) available in the Facebook study group to help the bronze and silver students! Directions for joining that Facebook group will be in the classroom after you register.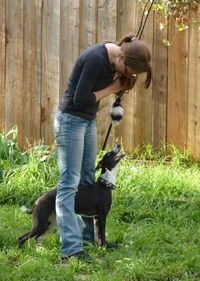 Instructor:
Amy Cook, PhD
Amy Cook, Ph.D. (she/her) has been training dogs for over 30 years, and through Full Circle Dog Training and Play Way Dogs in Oakland, CA, has been specializing in the rehabilitation of shy and fearful dogs for 20 years. She is a Certified Dog Behavior Consultant through the IAABC, a longstanding ...(Click here for full bio and to view Amy's upcoming courses)