Course Details
Multiple dogs can create some interesting training challenges! This class is designed to give you the tools to make a multi dog household a peaceful and productive place. In this class, we will cover group mentality, assessing and picking the right dogs to work with depending on the situation, how to spot issues before they become a problem and how to layer challenges (adding dogs, working in more distracting environments etc).
Also covered:
Different games used to teach dogs to "wait their turn".
How to properly introduce new members of the group.
Group Management (how and when).
NOTE: This class will NOT cover aggression cases, or resource guarding. This class is to PREVENT these issues.
The goal with this class is for you to have a plan to make your multi-dog household peaceful and controlled, while still having a ton of fun!
Teaching Approach
There will be concept lectures that include both video demonstration and verbal descriptions of the exercises. Lectures are released each week in one batch at the beginning of the week. The ability to read and react to your dog is needed and you can learn a lot about that in this class. Creative thinking is for sure an asset, but there is plenty of instruction to guide you through the exercises.

There is a natural progression to the skills and exercises that is consistent for every team, but everyone works at their own pace. Some modifications can be made depending on the dog's needs. Watching the Golds in this class will also give you a lot of different ways to adapt.
You may have to bend down to reward, but there will be no running or fast movements required.
Please remember this class is not for aggressive dogs or severe resource guarding issues. Due to the complex nature of these things and liability, those issues should be addressed with soneone in person.
Feedback will be typed with time-stamps.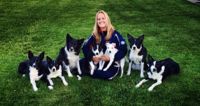 Instructor:
Loretta Mueller
Loretta Mueller (she/her) has been involved in agility since 2003 with her first rescue dog, Ace. Since then she has been involved in a variety of dog training activities including USBCHA herding, competitive obedience, rally obedience, and service dog training. In 2007, Loretta...(Click here for full bio and to view Loretta's upcoming courses)