Course Details
Proofing is and should be fun! Proofing is an important aspect of training that strengthens dogs' understanding of the exercise and prepares them for the demands of the ring. Proofing also improves their focus and concentration. In this class we will present our dogs with challenges that address a variety of distractions and different "pictures". Each activity is a fun game that the dog quickly learns how to win. Solving challenges and "winning" builds the dog's confidence and resilience. The dog becomes eager for more. When your dog encounters something unique in the ring (which will happen!) they will have the skills to work it out. With proofing, dogs will make mistakes. And that's ok!! We will teach them not to worry about it! We are teaching them to relax and become problem solvers. All dogs are different! I will provide you with different challenge levels so that the worrier is not overwhelmed, and the confident dog is not bored. Proofing can and will be fun for your dog and FOR YOU!!
Dogs taking this class should be fluent in the primary parts of the open and utility exercises. If they don't know the exercise, they won't be able to find the answer to win the game which is not fair. They don't need to be ring ready. They just need to have a solid understanding of the principal parts of the exercise.
Teaching Approach
This class will have written and video lectures each week. Each lecture will be broken down into small pieces. There will be video examples demonstrating all exercises. Because everyone has their own learning style, I encourage students to move at their own pace. I understand that each dog and handler are unique and will do my best to accommodate their needs. Students will need to move around with their dogs as is required for open and utility exercises. I will work with you to modify the exercises to your abilities. A few of the games will require quick physical movement from the trainer for short periods and distances.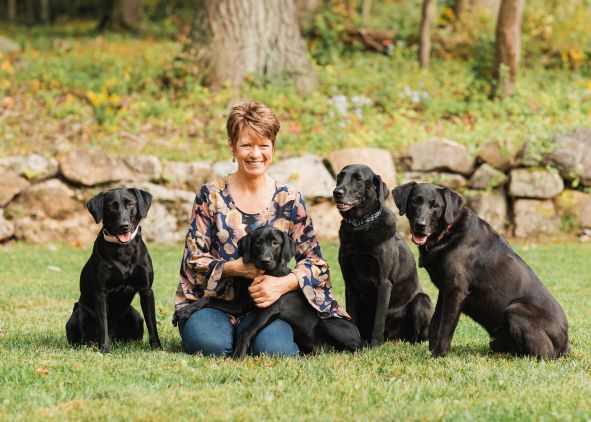 Instructor:
Petra Ford
Petra (she/her) graduated from Rutgers School of Health Related Professions 17 years ago with a degree in physical therapy and has experience working with an extremely varied caseload including pediatric through geriatric clients with a vast range of diagnoses. Her areas of expertise included in-patient rehabilitation, orthopedics and neurology. (Click here for full bio and to view Petra's upcoming courses)