I
Course Details
Are you looking at entering your dog's first agility trial? Or perhaps you've just had their first trial and discovered to your dismay that you completely forgot to train for the first exercise that your dog sees the morning of the trial!
The measuring process can be difficult for many of our dogs. It's easily overlooked, and unfortunately the stress from being measured can set the tone for the rest of their day.
The goal of this workshop is to prepare our dogs for both the action of the wicket lowering onto their withers AND the presence of another human touching them. We will talk about progressing so that your dog is in control of each rep starting or stopping. This
This is important whether you have a dog who thinks everyone is their best friend and can't possibly hold still, or whether your dog is quite distrustful of another person touching them.
You will NOT need a wicket for this workshop. A wicket is used in the final stages but 80% of your training will be without! Most people will also not need a helper until the much later stages. I do quite a bit of work with just me before introducing another person!
Note: We will not be discussing how to teach a stacked stand to get the perfect measurement. This workshop will be focusing on your dog's confidence in knowing what to expect with the measuring process.
Watch the Trailer
---
Lecture Publish Date: Sunday Jan 22nd
Video Submissions Due Date: Sunday Jan 29th @ 12pm noon PT
Feedback & Questions Video Publish Date: Wednesday Feb 1st
---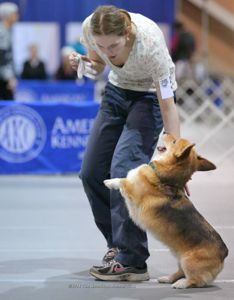 Instructor:
Laura Waudby
Laura Waudby (she/her) trains and competes in obedience, rally, and agility. She was halfway to her OTCH with her UDX corgi, Lance, before his uexpected early retirement. She also has championship titles in USDAA and UKI. By day...(Click here for full bio and to view Laura's upcoming courses)