Course Details
Are you interested in dock diving and want to give your dog a great foundation before you even hit the pool? Or perhaps you've been to the pool with your dog and things didn't go as well as you expected. OR maybe you are already hooked on the sport and want to make some progress during the offseason or up your dog's game between pool rentals? Whatever your situation, this course is here to help you and your dog find joy and success in dock diving by focusing on the groundwork fundamentals.
Dock diving as a sport is very beginner friendly and a popular way for dogs to have fun and enjoy summer. It's also a sport that offers a LOT of room for advanced training that can help your dog's jumps improve, build their confidence overall, and allow you to really feel the teamwork involved with perfect timing and precision!
Most dogs will have the best chance at having a good first impression of dock diving, enjoying this sport long term, and jumping to their full potential if they have a proper foundation of skills to set them up and if their bodies are conditioned to handle it. This course will look at each of the main 'events' that are most common in the various dock diving competition leagues- distance, speed type events, and the suspended toy games- and will break each of these down into their component parts, and then develop those individual skills in progression on dryland. We'll also cover fitness and conditioning exercises that can help improve your dog's strength, balance and stamina for safer, bigger jumps. And, we'll look at some of the common dock diving training problems that come up and how these foundation games and exercises can improve those!
Additionally, we'll look at how each of these individual foundation games fits into actual dock diving, what we expect it to do for your dog's game, and how they can be used or adapted during your pool time to help transfer your dryland skills to the dock.
Gold students will be able to do the majority of the exercises in a small space, indoors, with a no-slip flooring surface. If you have access to more space we can make use of it and students who have access to a pool may choose to post their dog's past or current dock diving videos for feedback or analysis as they fit into the weekly material. However, the course is intended to be a dryland training course, so no current or previous pool access is necessary to complete it and you'll find that there is very little that can't be done in the average sized living room or smaller backyard. There will be some bending, tugging and play required as homework in several lessons.
Teaching Approach
Each week will contain several subtopics with lectures containing written descriptions of each exercise and brief video examples. Many of the video examples will show both a dog in the learning stages as well as a more advanced dog in order that students can see how skills progress. Some lectures will also include analysis of actual dock diving in order jumps to better show how foundation skills fit in. Some lectures are more conceptual in nature but most will contain short homework assignments. Homework for each week is progressive. Some bonus reference lectures are included to help students transfer dryland skills to the dock when weather/access permits and will not require homework.
Feedback for gold and silver students is detailed and encouraging- typically, the feedback is provided in written form but occasionally screenshots with markups or video demos are provided in order to help clarify next steps. You will receive feedback on what is going RIGHT as well as what needs changing.
This class will have a Teaching Assistant (TA) available in the Facebook study group to help the bronze and silver students! Directions for joining can be found in the classsroom after you register.
---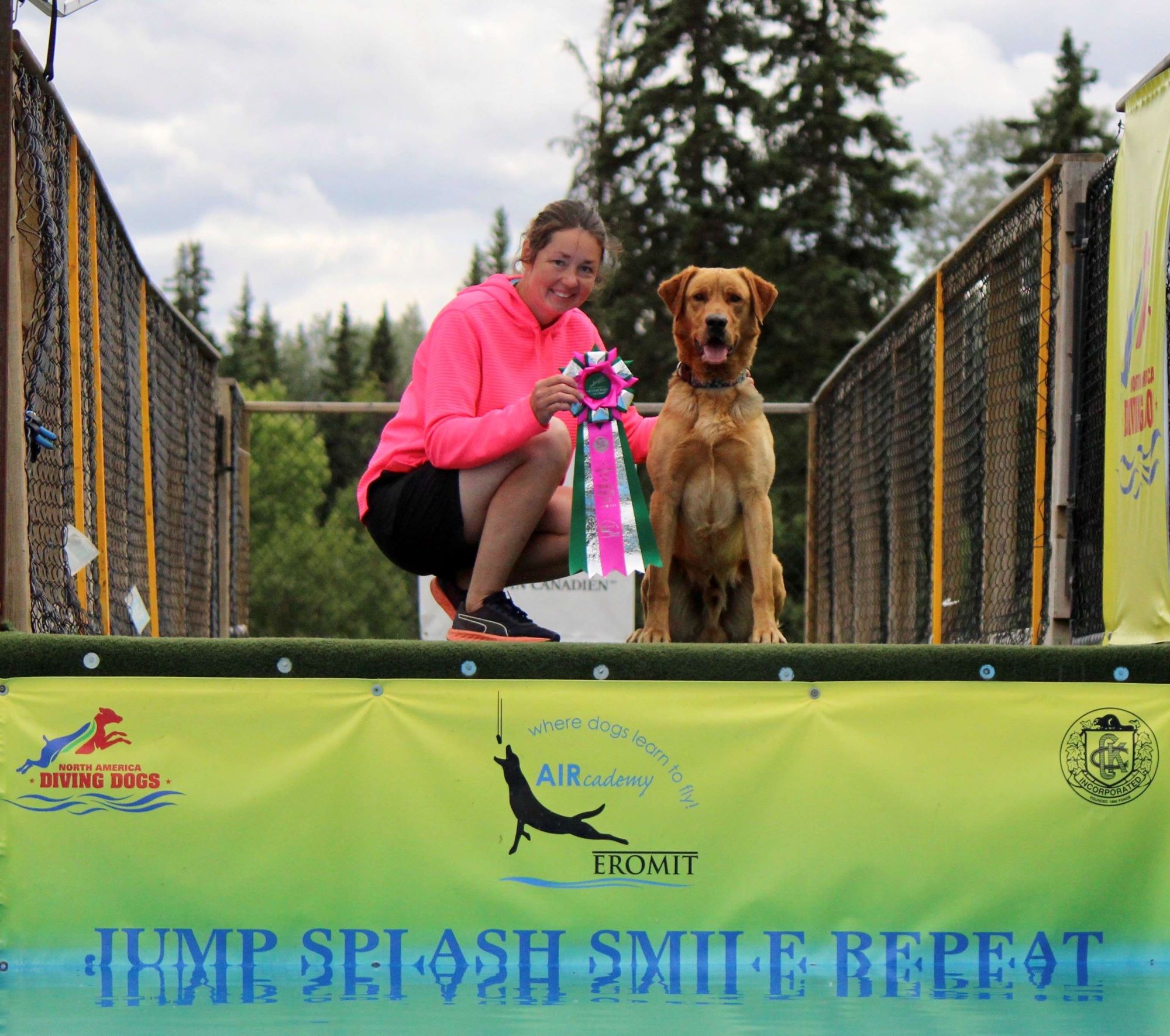 Instructor:
Erin Lynes
Erin (she/her) is a lifelong dog enthusiast from Quesnel, British Columbia, Canada. Erin is certified as a Karen Pryor Academy Training Partner, a Certified Profesional Canine Fitness Trainer, a Licenced Family Dog Mediator, and as a Cani-Fit Leader, ...(Click here for full bio and to view Erin's upcoming courses)