Course Details
Heeling is required at all levels of obedience. Due to its complexity, we typically spend more time training heeling than the majority of other obedience exercises. This class will ensure that your dog is physically up to the challenge! Good heeling requires physical endurance, core strength and great hind end awareness. Your dog also needs good range of motion and strength in their neck, front end and back end. In this class we will look at structure for function and how it impacts your dog's movement.
I will teach you simple stretches to ensure your dog has and maintains full range of motion. You will learn strengthening exercises that will enable your dog to heel effortlessly. You will get exercises that target your individual dog's needs based on their structure and current fitness level. Dogs do not have innate hind end awareness. This is a skill that must be taught. We will go through a progression that will teach your dog great awareness for turns and the inside & outside of the Figure 8. I will have LOTS of reference videos to help you with all of the exercises. At the end of this course you and your dog will have the physical skills for animated heads up heeling.
Listen to the Podcast:
https://www.fenzidogsportsacademy.com/blog/petra-ford-what-goes-into-heelwork
Teaching Approach
Lectures and videos will be released on a weekly basis. Instructions are provided in both written form and with short videos. Mechanics and technique are important in this class which is why I demonstrate with videos. Students will work through materials at their own pace and get individualized feedback on their progress.
For larger dogs many of the exercises will require you to bend down. Students with physical considerations can sit in a chair. With medium and smaller dogs several of the exercises can be done on a grooming table (or any table with a non-slip surface). I'm happy to help Gold students with modifications. A number of the exercises are done in heel position. Most of the conditioning exercises can be performed indoors or outdoors in a small area. They must be done on a non-slip surface. I can help adapt the exercises for working students. Exercises done in heel position require enough space for 4 steps of heeling.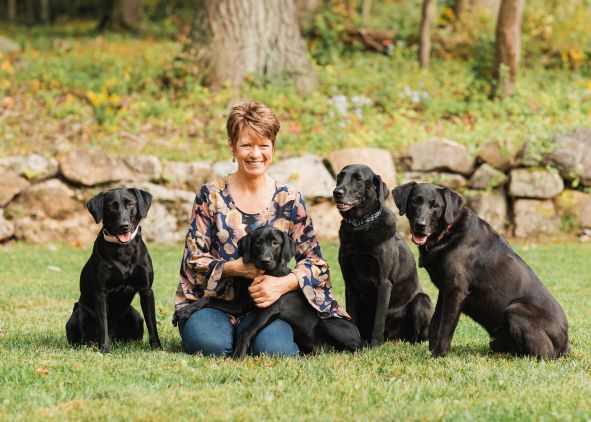 Instructor:
Petra Ford
Petra (she/her) graduated from Rutgers School of Health Related Professions 17 years ago with a degree in physical therapy and has experience working with an extremely varied caseload including pediatric through geriatric clients with a vast range of diagnoses. Her areas of expertise included in-patient rehabilitation, orthopedics and neurology. (Click here for full bio and to view Petra's upcoming courses)