Course Details
Mondioring Obedience is a fun new obedience venue catered to all breeds! Based on real-life challenges and working under distraction, Mondioring takes familiar obedience exercises to a new level. With the development of the United States Mondioring Association's Obedience-only program, now any dog can participate and earn titles.

This class will cover each of the exercises in the obedience-only program. Working spots will progress at their own pace, students can work on training the behavior or if the behavior is already known, distractions will be introduced under the guidance of the instructor.

Even if competition isn't your goal, this class will help your dog generalize their obedience behaviors to the extreme!

The exercises in the Mondioring Obedience program include:
Heeling
Down stay with distraction
Position changes
Food refusal
Retrieve
Send away

There will be a TA for this class who will help answer questions on the Facebook group. The TA this session is Linda Black.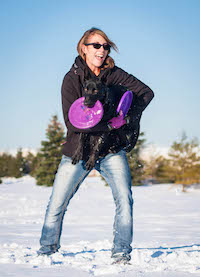 Instructor:
Sara Brueske
Sara Brueske (she/her) has been training dogs for over 15 years, and has experienced a large variety of breeds and sports during that time. Having graduated as a Karen Pryor Academy Certified Training Partner ... (click here for full bio including Sara's upcoming courses)