Course Details
Did you know that dogs search with WAY more than just their noses? They will use all of the information available to them in order to find source. Dogs are thinkers. We can use an understanding of how they think to help to build, craft, and sculpt an efficient, powerful search dog. And like humans, each dog has different cognitive strengths. Effective nosework training is all about setting up hide situations in order to capitalize on their strengths.
Nosework is all about problem solving. In this class, we will use problem solving scenarios to get your dog REALLY thinking! When your dog problem solves, communication happens! By setting up challenges, not only do we educate the dog, but we educate our own eye.
In this class we will explore...
... how the dog thinks and uses cognition in searching
... how we can recognize how our own personal dog processes, stores, and uses information for the purpose of searching
... how we can maintain "balance" in our training so that we don't swing the pendulum too far in influencing our dog's training
... how to recognize when we need to shift our training strategies in order to re-balance our dog's tendencies
... how to set up searches in order to maintain this delicate balance. (YES! There will be training setups discussed in depth!)
... how to use hide placement to establish natural patterning with the dog so that the dog is less reliant on handler direction
In short... this is how Stacy trains her dogs and how she will teach YOU to be a thinking trainer with a thinking search dog!
This class will explore and build on our dog's natural cognitive capabilities....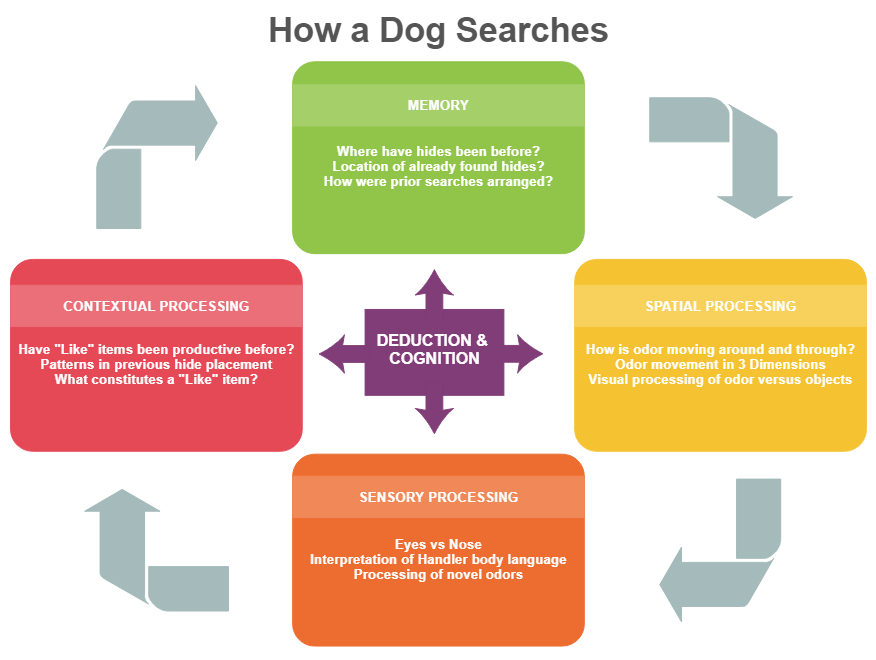 Teaching Approach
This class will be both conceptual and experiential with lectures that will tell you the WHY and the HOW you can apply the concepts. Part of the assignments are prescriptive, however the learner will need to draw conclusion from the prescriptive practice in order to apply it to day to day training. Learners will also complete assignments based on adapting the concepts to their situation. Learners will be encouraged to experiment with these concepts in order to best help their dogs. Lectures will be a combination of written text and videos. Some videos are as short as 30s and up to 3 minutes, with the average between 1-2 minutes long. There will be on average 3 to 5 lectures per week, however the first week will have more. Gold students will be allowed 6:00 of video time per week and will be expected to keep track of their time usage in their threads. This course is best for students who enjoy concepts and adaptation to their situation.
This class will have a Teacher's Assistant (TA) available in the Facebook study group to help the bronze and silver students! Directions for joining will be in the classroom after you register.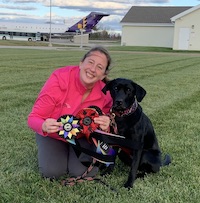 Instructor:
Stacy Barnett
Stacy Barnett is a top nosework competitor and trainer, being the first handler to title multiple dogs with multiple Summit Level titles in the National Association of Canine Scent Work (NACSW), (Judd SMTx3, Brava SMTx2). Stacy has been a faculty member at Fenzi Dog Sports Academy since 2015 (Click here for full bio and to view Stacy's upcoming courses)