Course Details
Does your dog have a tendency to ignore your commands on course? Or "blow you off"?
Do you feel you need clarity in the information you are giving to your dog?
Is your dog a tunnel sucker? How do you fix it?
In this class we will focus on drills that will create a dog that is responsive. So you have obstacle and handler focus instantly when asked. No more wondering IF your dog will respond. You will also learn how your dog got to be non responsive, so you can prevent future issues.
We will work on timing, but most importantly, test your dogs responsiveness and what to do when things go wrong.
There will be 3 levels of drills: Beginner, Intermediate and Advanced.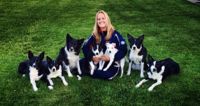 Instructor:
Loretta Mohler
Loretta Mohler (she/her) has been involved in agility since 2003 with her first rescue dog, Ace. Since then she has been involved in a variety of dog training activities including USBCHA herding, competitive obedience, rally obedience, and service dog training. In 2007, Loretta...(Click here for full bio and to view Loretta's upcoming courses)