Course Details
Are you thinking about competing? You have been taking some dog sport classes and are thinking it might be fun to try a competition and see what it is all about. Great! What do you do next? How do you even find one?
This class is for anyone who wants to be more thorough with their trial preparation whether a newcomer or a seasoned competitor. You will be working with your dog throughout the course on generalization, ignoring distractions, reducing reinforcers and all the little skills needed to hold the ring performance together. I will help you evaluate your dog's ability to use known skills under these more difficult circumstances so that you will know if you and your dog are trial ready. In addition, we will cover things like how to find events, interpret and fill out entry forms, and trial etiquette.
You don't need to be looking to enter an event by the end of the course. In fact, this course is also appropriate for the person who is thinking "maybe….someday".
This class focuses on trial preparation for Agility, Rally and Obedience.
Check out this short trailer!:
Teaching Approach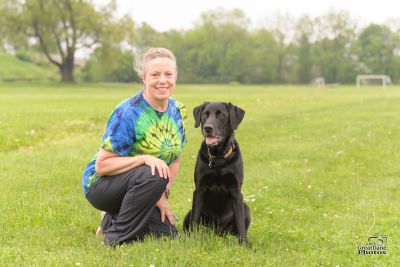 Instructor:
Ann Smorado
Ann Smorado (she/her) was a horse crazy teenager who started training dogs in 2006 when she got her first labrador retriever, Miles. What started out as taking a puppy class to make sure she would have a well mannered dog, or at least a dog that didn't destroy the house, quickly grew into a passion. (Click here for full bio and to view Ann's upcoming courses)