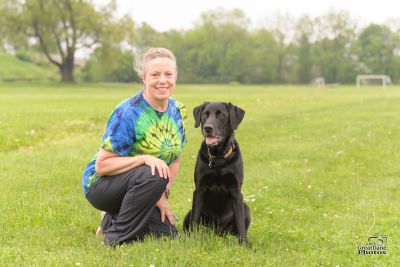 Ann Smorado (she/her) was a horse crazy teenager who started training dogs in 2006 when she got her first labrador retriever, Miles. What started out as taking a puppy class to make sure she would have a well mannered dog, or at least a dog that didn't destroy the house, quickly grew into a passion. Miles earned his AKC Utility Dog (UD) within 5 years of that first puppy class and his Master Agility Champion (MACH) shortly thereafter. He also earned his RAE and the WCRL ARCHMX. In 2012, Ann got her second labrador, Hartley. She soon found Fenzi Dog Sports Academy and has been taking classes with Hartley ever since. Ann has been teaching Obedience foundations at Canine Affair Center since 2014. She and Hartley actively compete in Agility, Obedience, Dock Diving and Rally. Hartley has his MACH3, UDX, OM1, Junior Hunter and is working on his Agility Grand Champion. Hartley also has his TEAM 6. Ann was awarded the Fenzi Dog Sport Trainer Certificate for Obedience/Rally and Freestyle. Ann is also a TEAM judge.
Pronouns: Ann goes by she/her.
Are you thinking about competing? You have been taking some dog sport classes and are thinking it might be fun to try a competition and see what it is all about. Great! ...
October 1, 2021
Have a question about an upcoming course taught by Ann? Not sure if your dog is suitable for a specific class? We welcome you to contact instructors by email to make sure the course is suitable for you and your dog.
FDSA is excited to welcome Ann as a guest instructor for August 2019.