Course Details
THERAPY DOGS are everywhere now – Airports, School Reading Programs, Hospitals, Nursing Homes, Court Rooms, and even Fire and Police Stations – all provided through volunteers & their dogs.
Volunteering time in your community is a wonderful thing to do to give back but volunteering with your canine companion as a Therapy Dog can give even more joy to others who may be in need of some loving companionship, support, and even stress relief. Being a Therapy Dog & Hander though is much more than just having a dog who loves people. It's about having a dog who not only enjoys the company of people and seeks them out but who is also a well-mannered canine. This includes having a calm and gentle disposition, being able to walk on leash without pulling, not startle with strange noises, smells and even the odd piece of medical equipment. The Therapy Dog also needs to be able to accept strangers touching them, not jump on anyone as well a be good in the presence of other dogs. In short a well-mannered pooch.
If you've often thought about how you could volunteer with your dog but aren't quite sure if your dog's manners are up to snuff, how to even train many of the useful skills and behaviours needed or what it takes to prepare you and your dog to become such a valued community member then come join us in the VOLUNTEER READY! Therapy Dog Skills class.
Many Therapy Dog programs require dogs to have passed AKC CGC (Canine Good Citizen) or CKC CGN (Canine Good Neighbour) and even the AKC URBAN CGC tests. So, with that in mind we'll be covering and fine-tuning many of the skills in those programs as well as adding a couple of new ones for you. At the end of class with diligent practice, you should be ready to take your CGC, CGN or URBAN CGC test and then approach the organization in your area and apply to their program for a test.
NOTE:
This class is NOT suitable for reactive, shy or over the top excitable dogs.
This is not a certification class but rather a fine-tuning of skills and behaviours often needed to pass various certification tests.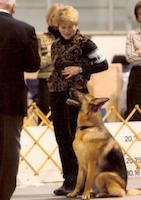 Instructor:
Heather Lawson
Heather Lawson (she/her) is a Certified Professional Dog Trainer - Knowledge Skills Assessed (CPDT-KSA) and also a Karen Pryor Academy Certified Training Partner (KPA-CTP), a CGN evaluator and a free-style judge. She has been training dogs and their humans for more that 20 years after deciding that...(Click here for full bio and to view Heather's upcoming courses)