Course Details
Short on time for fitness training? No worries, you only need five minutes plus a warmup and cooldown.
In this class, you will learn specific fitness exercises for your dog(s). We will cover exercises to increase muscle strength as well as improve performance, confidence, flexibility, focus, body awareness, balance and much more. You'll learn how to create a fitness program for your dog and we will focus on proper alignment while doing the exercises. You will also learn how to use fitness equipment and how to take advantage of opportunities outdoors for strengthening, e.g. rocks, logs, stumps, stairs, park benches, and hills.
We will focus on how to do canine fitness safely and effectively. And you'll learn just how little time you need to set aside to strengthen your dog and maintain that strength. A five-minute fitness workout is plenty for most dogs and adds enrichment to your dog's life.
'Fitness in Five' is for anyone involved in canine sports, including agility, obedience, barn hunt, freestyle, conformation, lure coursing, flyball, SAR, and more. My sport is canine fitness so I include myself in this program. But you certainly don't have to be involved in a sport to participate in this course. Dogs who are not involved in a sport need fitness for their general health and well-being. And if you are spending a lot of time training and competing in your sport, this will be a nice addition for "off days" that could very well improve your dog's performance.
This is an introductory course, meaning no prior experience with any of the topics covered is needed. For gold-level participants, I will provide feedback on your training and advise you on your dog's alignment. I'll give you tips and support for how and when to progress the exercises as well as how to be more successful with all of the exercises and concepts presented in this course. We will find joy in fitness.
Teaching Approach
Lectures will be released weekly and include how to set up the environment, instructions for teaching the behavior, video examples, benefits, and alignment. We will focus on the exercises, observation skills, teaching, and your dog's level of engagement and joy.
This class will have a Teaching Assistant (TA) available in the Facebook discussion group to help the bronze and silver students! Directions for joining can be found in the classroom after you register.
Cassie on Paw Pods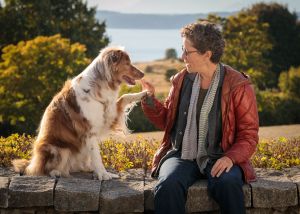 Instructor:
Lori Stevens
Lori Stevens (she/her) (CPBC, CPDT-KA, CCFT, SAMP) is an animal behavior consultant, a professional dog trainer, a canine fitness trainer, an animal massage practitioner, and a senior Tellington TTouch® Training practitioner. ...(Click here for full bio and to view Lori's upcoming courses)