Course Details
Are you wondering what it takes to be successful trialing in the sport of nosework? Do you know how to prepare for and how to be a good teammate for your dog? Are you struggling to qualify or perhaps not getting the scores you'd like? If so, this class is for you!
This class will NOT teach you nuts and bolts skills... such as alerts, inaccessible hides, or high hides, etc. This class WILL teach you the fabric that will help your team to succeed. These are the "soft skills" of Nosework. These skills are what takes a team from "Good" to "Great". We will deep dive into the 5 main topics in a way that will help you to really understand your teammate and how to train with excellence.
In this class, we will delve into topics that will prepare you for the rigors of competition or help you to take your current competition to the next level. We will cover the psychology and biology required to be a good teammate. Trialing successfully in nosework is part art, part science. In this class, we will cover both!
Themes include:
Teamwork
Reading Your Dog
Excellent Handling
Managing Arousal
Emotional Needs & Mental Management
While we Deep Dive into these 5 Themes, we will cover these fabulous topics:
The elements of a successful team
What exactly IS teamwork in the sport of nosework?
Understanding your chosen venue, including Q strategies
How to avoid a False Alert
When to call Finish effectively
Knowing when your dog is, and most importantly ISN'T in odor
Supporting your dog's emotional needs
Riding the Arousal Curve with Yerkes-Dodson!
Foundations of Excellent handling
Blank Rooms
Calling Finish confidently in unknown hide number searches
Avoiding false alerts due to handling challenges or mis-reading the dog
Handling by effectively releasing pressure
When to influence the search and when to just follow
Strategies for trialing the high arousal dog
How to stay "in the moment"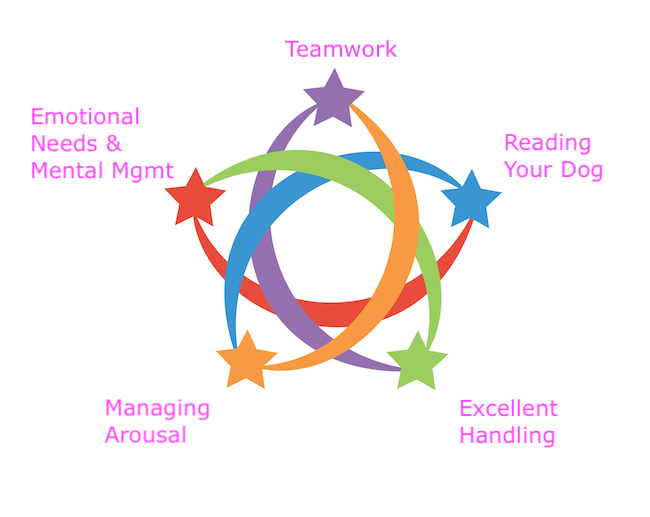 Teaching Approach
This class will be both conceptual and experiential with lectures that will tell you the WHY and the HOW you can apply the concepts. Part of the assignments are prescriptive, however the learner will need to draw conclusion from the prescriptive practice in order to apply it to day to day training. Learners will also complete assignments based on adapting the concepts to their situation. Learners will be encouraged to experiment with these concepts in order to best train their dogs. Lectures will be a combination of written text and videos. Some videos are as short as 30s and up to 3 minutes, with the average between 1-2 minutes long. There will be on average 3 to 5 lectures per week, however the first week will have more. Gold students will be allowed 6:00 of video time per week and will be expected to keep track of their time usage in their threads. This course is best for students who enjoy concepts and adaptation to their situation.
This class will have a Teacher's Assistant (TA) available in the Facebook study group to help the bronze and silver students! Directions for joining will be in the classroom after you register.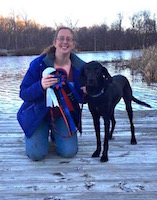 Instructor:
Stacy Barnett
Stacy Barnett (she/her) is a successful nosework competitor, being one of only a handful of teams titled through the Summit Level (SMT) in NACSW with her dog, Judd. In fact, she and Judd have earned THREE Summit titles (SMTx3)! Stacy is also an international clinician and AKC scent work judge. (Click here for full bio and to view Stacy's upcoming courses)