Course Details
This course outlines the foundation training program developed by the instructor, Sara Brueske. This program was developed with experience training many different breeds and ages of dog to successful careers in the sports of canine disc, agility, obedience, and dock diving as well as professional trick dogs.
This course is appropriate for any age dog or skill level of the handler. We will cover all of the core concepts needed to train the successful performance canine, regardless of their future sport or activities. This course has a heavy emphasis on creating a functional relationship as well as helping your dog develop an operant learning style.
Teaching Approach
All the Sports is comprised of written lectures and short demo videos for each behavior. There are 3-5 lectures released each week on the first day of the week. The emphasis for this class is on quality work rather than quantity so there is no pressure to complete all of the exercises.
This class will have a Teacher's Assistant (TA) available in the Facebook study group to help the bronze and silver students! Directions for joining will be in the classroom after you register.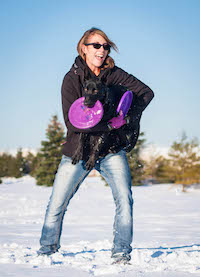 Instructor:
Sara Brueske
Sara Brueske (she/her) has been training dogs for over 15 years, and has experienced a large variety of breeds and sports during that time. Having graduated as a Karen Pryor Academy Certified Training Partner ... (click here for full bio including Sara's upcoming courses)