Course Details
This class is designed with written assignments and thought provoking questions that students will use to discuss how to PLAN AND RUN a successful in person Nosework class.
PLEASE NOTE: This class will NOT teach how to teach Nosework... we have other classes for that! In fact, this class will be methodology agnostic... please feel free to participate regardless of your methods for introducing odor.
Stacy usually teaches between 12 and 15 local classes per week. Work with Stacy to learn how to successfully structure a program that will work for you and your students. This will be a discussion heavy class so come prepared with your questions!!
Class Trailer: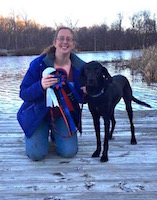 Instructor:
Stacy Barnett
Stacy Barnett is a successful nosework competitor, being one of only a handful of teams titled through the Summit Level (SMT) in NACSW with her dog, Judd. In fact, she and Judd have earned THREE Summit titles (SMTx3)! Stacy is also an international clinician and AKC scent work judge.