Course Details
Based on Sarah's concept, The Four Steps to Behavioral Wellness, this course digs deeper into what our dogs really need. The Four Steps are: exercise, enrichment, nutrition, and communication. Learn how to exercise your dog in a way that truly feeds his mind and body (and how you can tell!), how to provide enrichment that emboldens the shy or fearful and encourages thoughtfulness in the adrenalized, how to be sure you are on the right nutrition path, and how to communicate effectively in life and sport. Also included are the foundational skills most foundation curricula leave out: waiting as a concept, happy crating, handler-attention in the face of social enticement, and more!
Teaching Approach
This course is largely conceptual. Each week you will receive a block of lectures that will include concepts to discuss as well as activities and training procedures to try. It is a deep-dive into wellness for dogs, with some soul-searching often built in! While some training skills are covered, the key components of the class are centered on embracing the four steps to behavioral wellness.

The material is lecture and video based. Rarely there will be a video that includes voiceover, but when that happens the lecture supports the video too and the voiceover is not vital to your understanding of the video.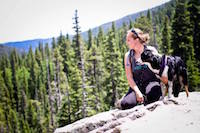 Instructor:
Sarah Stremming
Sarah (she/her) has been working with dogs in the realms of performance training and behavior solutions for over a decade. She currently operates online through her business, The Cognitive Canine. Her special area of interest has long been helping dog owners address behavioral concerns...(Click here for full bio and to view Sarah's upcoming courses)