Course Details
Are you tired of being dragged everywhere you go with your dog? Sore shoulders and back? Time to join Loose Leash Walkers Anonymous then and get started on a more pleasurable walking journey with your dog.
The class will cover:
Basic Leash Skills
Getting Outdoors
Handling Distractions
Management - Getting From A-Z
Let's give YOU the skills to teach your dog Loose Leash Walking Etiquette all through positive reinforcement and consistent clear criteria. See the syllabus to understand what this class will cover in detail.
** This class does not address negative reactivity issues or prey distraction/chase issues. It also does not address working multiple dogs at a time.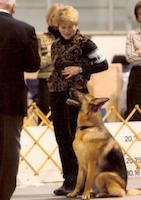 Instructor:
Heather Lawson
Heather Lawson (she/her) is a Certified Professional Dog Trainer - Knowledge Skills Assessed (CPDT-KSA) and also a Karen Pryor Academy Certified Training Partner (KPA-CTP), a CGN evaluator and a free-style judge. She has been training dogs and their humans for more that 20 years after deciding that...(Click here for full bio and to view Heather's upcoming courses)