Course Details
Sarah has your jump foundation training, and Dr. Leslie has the conditioning exercises required for jumping in this innovative course that covers jumping from all angles. Each week you'll have a foundation training exercise from Sarah focusing on different types of learning and positive reinforcement for correct jumping efforts with an emphasis on errorless learning procedures, as well as a conditioning exercise from Dr. Leslie focused on one of the five phases of jumping: approach, takeoff, aerial, landing, and departure.

Teaching Approach
This course is taught by TWO instructors who are different. You will get feedback from both throughout, and their separate lectures and videos will have some differences. In general; spacial awareness is required, and ability to convert measurements to metric system (if needed) will be helpful. A combination of lecture, video, and video with voiceover and/or captions is used. Both instructors are helpful and accomodating.
This class will have a Teacher's Assistant (TA) available in the Facebook study group to help the bronze and silver students! Directions for joining that Facebook group will be in the classroom after you register.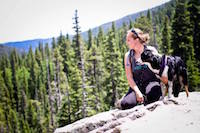 Instructor:
Sarah Stremming
Sarah (she/her) has been working with dogs in the realms of performance training and behavior solutions for over a decade. She currently operates online through her business, The Cognitive Canine. Her special area of interest has long been helping dog owners address behavioral concerns...(Click here for full bio and to view Sarah's upcoming courses)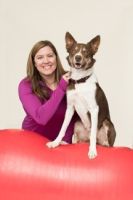 Instructor:
Leslie Eide, DVM
Leslie Eide (she/her) graduated from Colorado State University's veterinary school in 2006. She completed a rotating internship in small animal medicine in Albuquerque, NM. She continued her education by becoming certified in canine rehabilitation through the Canine Rehab Institute...(Click here for full bio and to view Leslie's upcoming courses)