Course Details
Recalls are one of the most important behaviors that you can teach your dog, the benefits in the real world are invaluable. However, often we are combating the distractions around us when we are training this behavior. One of the best ways to train a recall by treating it like a performance behavior in which we value speed, enthusiasm and fun as well as a habitual response to the recall cue. In this class, we will specifically be focusing on a whistle as our recall cue as this is the best noise to use at a distance and to cut through other distracting noises. We will be discussing various recall games to play, how to know when your recall is ready to level up and how to increase the speed of your dog's response.
Join us to learn how to create an immediate response with your recall and to teach your dog to love their recall!
---
Note: This topic ran previously as a webinar in August 2020 and January 2022. Please review your webinar library to make sure this would not be a duplicate purchase.
---
Watch the Trailer:
Lecture Publish Date: Sunday Sept 3rd
Video Submissions Due Date: Sunday Sept 10th @ 12pm noon PT
Feedback & Questions Video Publish Date: Wednesday Sept 13th
---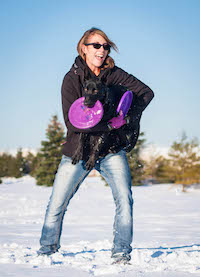 Instructor:
Sara Brueske
Sara Brueske (she/her) has been training dogs for over 15 years, and has experienced a large variety of breeds and sports during that time. Having graduated as a Karen Pryor Academy Certified Training Partner ... (click here for full bio including Sara's upcoming courses)