Course Details
Is your dog having difficulties with changing positions? They're not alone in this struggle. Transitioning between positions can be quite challenging, as it demands quick responses to cues without moving toward you. Introducing silent hand signals into the equation elevates the difficulty even further. This workshop is designed to guide you through the process of training your dog to execute position changes, both in heel and up close and at a distance.
We will begin by exploring different ways for the dog to execute position changes and talk about the advantages of each. The utilization of various props will be encouraged to ensure proper mechanics, as well as adding distance to position changes. We will also cover the techniques to gradually fade the props.
In addition, we'll delve into the complexities of the signal exercises commonly seen in obedience and rally. We'll explore how to transfer the verbal cue to a signal so your dog can execute confident position changes, regardless of whether the cue is verbal or a signal.
Regardless of whether your dog is new to learning positions or already comprehends the basics but faces challenges with distance and signals, this workshop will be beneficial. It's tailored for young dogs and those unfamiliar with positions, yet it provides insightful tips for those struggling with advanced aspects. The workshop's recommended equipment includes various props such as full-body platforms, larger PVC boxes, gates, and small barriers like jump bars or laid-out leashes. However, please note that all this equipment is entirely optional.
Upon completing the step-by-step instructions in this workshop, your dog will be well-prepared to conquer position-related exercises within obedience, rally, and TEAM activities, including command distinctions and signal exercises.
Working students will spend the week training and then post a 90-second video for review. Personalized feedback will be provided that will help progress the dog to the next steps. Working dogs of all levels will benefit from this workshop.
---
Note: This is a repeat workshop that has run previously under a different course number. Please review your workshop library to make sure this would not be a duplicate purchase.
---
Watch the Trailer:
Lecture Publish Date: Sunday Aug 27th
Video Submissions Due Date: Sunday Sept 3rd @ 12pm noon PT
Feedback & Questions Video Publish Date: Wednesday Sept 6th
---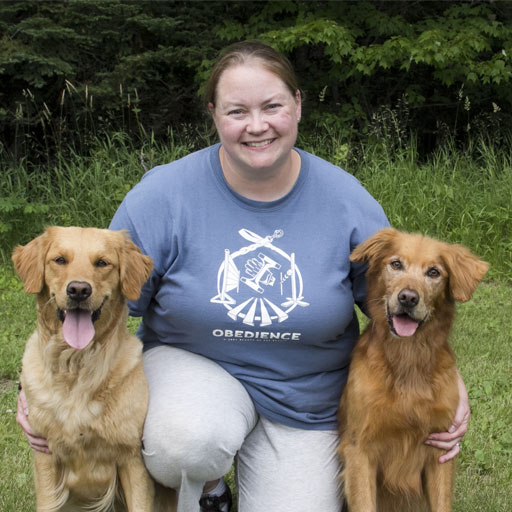 Instructor:
Nicole Wiebusch
Nicole Wiebusch CPDT-KA (she/her) has been competing in dog sports for over 25 years. Starting in 4-H, Nicole quickly became addicted to the sport of obedience and has been showing in obedience, rally, and agility ever since. (Click here for full bio and to view Nicole's upcoming courses)