Course Details
This class is all about enjoying the time you spend out and about with your dog: urban walks, nature hikes, and going places. Whether you and your dog walk on leash, off leash, or on a long line, there are skills that will make your time together more enjoyable, and inspire you to take your dog out and about even more often!
We'll be looking at ...
+ advanced recalls
+ radius training (keeping a certain radius around you even when off leash)
+ loose leash walking (3 methods to choose from)
+ settling in public places
+ using the Look at That! game (Leslie McDevitt) to pass scary or exciting distractions
+ muzzle training
This is a great class to build on what you learned in Calling All Dogs!
Teaching Approach
Out and About is a choose-your-own-adventure course. Students pick one or more training goals in the beginning of class, and follow the respective "paths" through the class. All lectures will be released on the first day of class to ensure students get to spend as much time as they need on their respective training goal(s).
For example, you may work on designing a training plan for your dog's greatest recall challenge in week 1, and work on it over the next 6 weeks. Or you may pick loose leash walking as your first goal, select one of the methods presented, focus on it for two weeks, and then work on settling in public for your second training goal. You may also work on (mild) reactivity for several weeks of the course.
Gold students get individualized attention, and unlimited 59-second-long videos. I'm happy to help you problem-solve, brainstorm and overcome your team's specific challenges - even if they require us to think outside the box. If you're not sure whether this class is a good fit for your challenge, just send me an email and we'll figure it out together!
Gold feedback on videos is time-stamped, and each of my replies comes with a concrete next step for you to work on or submit videos for to make sure you don't get stuck.
Silver students are encouraged to use their homework thread as a training diary and accountability tool and participate actively in the discussion forums.
This class will have a fantastic Teacher's Assistant (TA) available in the Facebook study group to help the bronze students! Directions for joining that Facebook group will be in the classroom after you register.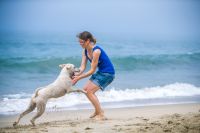 Instructor:
Chrissi Schranz
Chrissi Schranz (they, them), CCUI, is a dog trainer, writer and traveler currently based in Mexico. Chrissi has been fond of dogs of all sizes, shapes and personalities for as long as they can think - especially the so called difficult ones. After training the dachshund of their early teenage years in traditional ways at their local obedience club, they learned about clicker training and got hooked on motivational methods ... (click here for full bio and to view Chrissi's upcoming courses)