Course Details
Learn the skills and manners that will help to prepare you and your dog for your worldly adventures. These skills will also prepare you to take the Canine Good Neighbour (CGN), Canine Good Citizen (CGC) or Urban Dog (CGCU) Certification tests. Today's dog leads a much busier life. They live in condo's and houses, need to travel on public transit, walk the crowded city streets, attend all kinds of events and even hang out at the coffee shop. Oh, and did we forget - just learn to chill at home. Let's give your dog the skills he can use for everyday living, whether in your home or out 'n about town with you.
SPECIAL NOTE: With the current world situation facing all of us these days developing good foundation skills are still very important and can be worked on while still practicing safe physical distancing protocols. You do not need to venture too far to be able to complete the skills in this class.
This class will cover:
Connected Loose Leash Walking
House Manners Basics
Out 'N About Excursions & Adventures
Recalls - Verbals & Whistles - Fixing Your Recall
---
Piper's Puppy Adventure - Visiting The Local Market


Teaching Approach
Lectures are released at the start of each week with the majority of lectures released within the first 4 weeks. The lectures are broken down by each skill; highlighting multiple parts. Each lecture has an objective of the exercise, applications followed by written instructions and video examples for each step. The videos are generally 1 to 2min long and show actual training sessions. No voiceover is used during video however, occasional subtitles are in the video. Homework summaries are at the end of each lecture.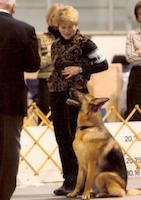 Instructor:
Heather Lawson
Heather Lawson (she/her) is a Certified Professional Dog Trainer - Knowledge Skills Assessed (CPDT-KSA) and also a Karen Pryor Academy Certified Training Partner (KPA-CTP), a CGN evaluator and a free-style judge. She has been training dogs and their humans for more that 20 years after deciding that...(Click here for full bio and to view Heather's upcoming courses)