Course Details
Team 3!! This is where the real fun begins as you start to chain together the little pieces you learned in levels 1-2. Now the dog gets to really move and you can start to see real glimpses of the final behaviors.
While the skills in this class are focused on TEAM3, they are foundation behaviors that will give you an excellent preparation for any dog sports venue such as AKC, CKC, or FCI obedience.
Fronts from different angles?! Sidesteps in heel? Position changes at a distance?! Marking, go outs, and directed sends?!
SO many fun skills in team 3!
Teaching Approach
ALL Lectures are released at the start of day #1 so that working teams will have the choice of which exercises they want to focus on over the 6 weeks.
The lectures are broken down by each skill, often in multiple parts. I have written objectives and then written instructions for each step followed by multiple video examples for each step. The videos are usually between 30sec to 2min long and are taken from training sessions of a variety of dogs. I do not talk to the camera or use voiceover or subtitles in the video. At the end of each lecture is a homework summary with the steps quickly summarized in order.
Some videos will depict training being done with the handler sitting on the ground. These steps can be modified to be sitting in a chair, and may also be modified to have the dog at a higher level such as up on a tall platform or on a bed.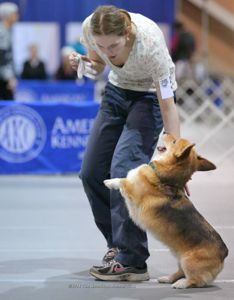 Instructor:
Laura Waudby
Laura Waudby (she/her) trains and competes in obedience, rally, and agility. She was halfway to her OTCH with her UDX corgi, Lance, before his uexpected early retirement. She also has championship titles in USDAA and UKI. By day...(Click here for full bio and to view Laura's upcoming courses)