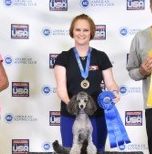 Shortly after adopting her Chihuahua, Barbara got involved with agility. In 2004, Barbara and her husband Michael were relocated to VA and shortly after she started teaching agility at All Dog Adventures (fka All Dog Playskool) in Richmond, VA. It was there that Barbara was introduced to Susan Garrett and her amazing foundation-based training that is centered around impulse control and relationship building with your dog. She continues to train with some of the best handlers in the world including Tracy Sklenar, Kayl McCann, Jaakko Suoknuuti and Janita Leinonen and has implemented what she has learned from them into her training program.
Before relocating to GA, while living in VA, Barbara also started her own in-home training and behavioral rehabilitation business. She was the trainer for Richmond Boxer Rescue and also assisted Southeastern Virginia Golden Retriever Rescue in assessing some of their dogs. Barbara has worked extensively with many rescue organizations including Chihuahua and Rottweiler rescue while living in NH. She is a member of the Association of Pet Dog Trainers (APDT).
Barbara is the head dog trainer for the F.I.D.O. Program run at Georgia Tech, which creates wearable computing for military, SAR and service dogs.
Barbara has also worked as an animal wrangler for Marvel's Ant-Man, 90 Minutes in Heaven, the TV series Satisfaction and various commercials.
She has been teaching since 2004 and became heavily involved in the OneMind Dogs handling method in 2014. She has successfully competed over 10 different breeds of dogs since she started competing in agility. Her current competition dog is her 3-year-old mini poodle, Miso. Miso started trialing in March 2016 and in 7 months qualified for AKC NAC and USDAA Cynosports. After 4 clean runs at the 2017 NAC, she earned her way into finals and finished as the 9th ranking dog in the country in the 12' division. She then went on to to win RD 1 at AWC World Team Tryouts April 2017. Barbara continues to teach all over the country.
Barbara resides in GA and shares her home with her very supportive husband, Mike, border collies Brazen and Blitz, Parson Russell terrier Piper, mini poodle Miso and bearded dragon Saphira.
This course will teach you how to speak the dog's language and make you a more fluid team in your communication. This course will break down the 12 most commonly...
August 1, 2019
Instructor: Barbara Currier Do you wish your dog could hit any weave entry regardless of where you are? Do you get nervous when walking a course and see a particular en...
December 1, 2019
Have a question about an upcoming course taught by Barbara? Not sure if your dog is suitable for a specific class? We welcome you to contact instructors by email to make sure the course is suitable for you and your dog.
FDSA is excited to welcome Barbara for her first class in October 2017.