Course Details
Struggling with motivation? Perhaps your library is full of great classes that you haven't done or you have goals and aspirations that simply aren't being met. Develop your skills to overcome the inevitable excuses that interfere with training and achievement. You may want to focus on dog training - or something else - at the end of the day, it all interconnects ...
This class will help you methodically work through your blocks and get you inspired and working hard with your animal partner.
Teaching Approach
This class is made up of written lectures split into easy to access lectures. They are released about every other or third day (but you are welcome to look at the bulk of them weekly) There are written homework assignments all students are encouraged to complete and gold students who post their responses will get specific feedback in the forum. People work at their own pace and their own issues - different students may well be focussed on different things. There is no expectation that every student will complete all the work. You choose what is meaningful for you and complete that!!
This class will have a Teaching Assistant (TA) available in the Facebook discussion group to help Bronze and Silver students! Directions for joining can be found in the classroom after you register.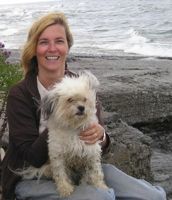 Instructor:
Andrea Harrison
Andrea Harrison (she/her) is passionate about all species, including dogs and humans! Having lived with dogs her whole life, Andrea was an early convert to positive training for people and dogs. She has taken this message to the media many times...(Click here for full bio and to view Andrea's upcoming courses)