Course Details
Got a new puppy? A new sport prospect for the sport of your choice? Got future plans but no idea how to start? Which behavior DO you start with?
Got a pet dog and discovered how fun teaching is? Interested in training your friend more skills? New to on line dog training?
Feel like you know how to shape behaviors but incredibly awkward at luring?
Vise versa? Master lurer here but what is up with shaping?
Don't have a puppy but interested in cleaning up your training skills and possibly learning more?
This is the class where the human half of the team learns! No matter what level your dog is at, this class is for you to learn more about teaching and training in general. Clear timing, clear mechanics, knowledge of what you are trying to accomplish, along with knowledge of what to do when you aren't getting what you want, all these skills help you to plan more efficient training sessions and cause less confusion and frustration from your learner dog. Join us as we explore luring, shaping, targeting and capturing offered behaviors with practical exercises tailored towards each concept. We learn to fade lures, name shaped behaviors without frustration from our learners, teach targeting on a prop, and how to transfer the prop and the behavior and fade the prop out of the picture. We also explore the concept of "capturing" offered behaviors, where you as the teacher learn to look for those big behaviors that you want for competition, and how to set up a training session to explain that concept to your dog. The dog learns to offer behaviors, to keep certain behaviors in his mind through the whole training session, and to not get frustrated while trying to figure out what you want. We use captured behaviors as "start button" behaviors for skills that you teach later on in the dog's learning career, like heeling and retrieves, as well as a way of listening to your dog's opinion of the training session.
In between all these practical training sessions, we explore what reinforcement really is, how to use it, we talk about focus, why it's important, and how to add the concept of "switching reinforcement" skills early on to your training sessions. And bonus lecture, "is your dog ready to work?" How can you tell if your dog is in the right frame of mind in any environment? Starting training sessions off with the right attitude from your dog is crucial for success going forward, whether you are taking skills on the road, or preparing for the competition environment!
This class is strongly recommended for all my other skill classes, like the heeling and retrieve classes, which rely heavily on the handler's shaping skills and clear mechanics, as well as the concept of start button behaviors. Crucial concepts of Competition is a great foundation class for any handler to have, regardless of goals. Come join us and develop your training knowledge for any sport!
Here is a sample video of Talic learning "stand by", how to add a cue to previously offered behaviors:
Teaching Approach
Lectures are released daily one at a time, about 3-5 a week. They consist of written instructions, a series of steps, and then more explicit written instruction and video examples of the steps. Videos are short and there is no voice over or explanation in the video itself. Each week basically covers a new/different subject, but students are encouraged to work at the pace they desire and need. While some of the subjects do not depend on completion of the prior week's concept, eventually towards the end, we pull all the skills together. This class needs minimal movement on the handler's part, except possibly for the luring subject, and can be adjusted to the handler's needs and abilities.
This class will have a Teaching Assistant (TA) available in the Facebook discussion group to help the bronze and silver students! Directions for joining can be found in the classroom after you register.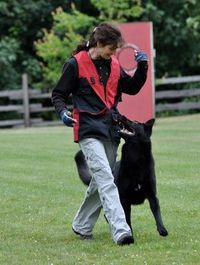 Instructor:
Shade Whitesel
Shade Whitesel (she/her) has been training and competing in dog sports since she was a kid. Always interested in how dogs learn, she has successfully competed in IPO/schutzhund, AKC obedience and French Ring. Her retired dog, Reiki vom Aegis, IPO 3, FH 1, French Ring 1, CDX, was 5th at the...(Click here for full bio and to view Shade's upcoming courses)