Course Details
There are three positive ways of getting a behavior - capturing, luring, and shaping. Of these, shaping is by far the most difficult - and the most fun. With shaping, you can literally teach your dog to perform any behavior he is physically capable of doing. Shaping will bring you closer to seeing into your dog's thoughts than you ever thought possible.
Whether you've heard about shaping and don't know what all the fuss is about, or you're just not confident in your ability to form this very special relationship with your dog, we'll be here to help you master each step along the way. Materials for this class are as prepared by instructor Sue Ailsby (now retired). Sue's materials along side homework feedback from FDSA instructor Heather Lawson will help you work through the process - selecting appropriate exercises to start with, introducing the clicker, and helping you develop your timing and criteria. In this fun, educational, and entertaining class, you'll be able to watch your training skills skyrocket while introducing you to a smart, willing, exciting, intelligent partner - your own dog!
NOTE: Class lecture materials are as originally prepared by Sue Ailsby who has now retired from active teaching. Sue will not participate in any of the homework or discussion forums. All class forum feedback will be handled by FDSA instructor Heather Lawson.
Teaching Approach
Lectures are released through each week and skills generally will build on each other. The lectures are broken down by each skill; highlighting multiple parts. Each lecture has the objective of the exercise, applications followed by written instructions, and video examples for each of the steps. The videos are generally 1 to 2min long and show actual training sessions. No voiceover is used during the video however, subtitle explanations are part of the video content. Homework summaries can be found at the end of lectures.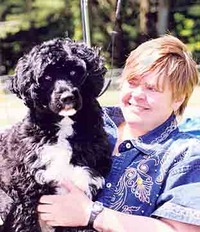 Instructor:
Sue Ailsby
Susan Finlay Ailsby (she/her) has retired from active teaching for FDSA. She is a retired obedience and conformation judge. She has been "in dogs" for 54 years, having owned and trained Chihuahuas, miniature pinschers, miniature longhaired dachshunds, Australian cattle dogs, miniature schnauzers, giant schnauzers, and Portuguese...(Click here for full bio and to view Sue's self-study courses)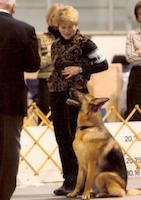 Instructor:
Heather Lawson
Heather Lawson (she/her) is a Certified Professional Dog Trainer - Knowledge Skills Assessed (CPDT-KSA) and also a Karen Pryor Academy Certified Training Partner (KPA-CTP), a CGN evaluator and a free-style judge. She has been training dogs and their humans for more that 20 years after deciding that...(Click here for full bio and to view Heather's upcoming courses)