Course Details
Team 3!! This is where the real fun begins as you start to chain together the little pieces you learned in levels 1-2. Now the dog gets to really move and you can start to see real glimpses of the final behaviors.
This is a skills class focusing specifically on the behaviors that make up TEAM level 3.
The syllabus has the basic exercises included, but please visit the TEAM site for more information on the program:
http://fenziteamtitles.com/levels/level-three/
While the skills in this class are focused on TEAM3, they are foundation behaviors that will give you an excellent preparation for any dog sports venue such as AKC, CKC, or FCI obedience.
Teaching Approach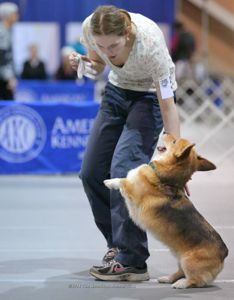 Instructor:
Laura Waudby
Laura Waudby (she/her) trains and competes in obedience, rally, agility, and dabbles in disc dog and trick training. She was halfway to her OTCH with her UDX corgi, Lance, before his early retirement. She also has championship titles in USDAA and UKI. By day...(Click here for full bio and to view Laura's upcoming courses)