Course Details
Do you struggle to keep your dog engaged and attentive in training? Does your dog find other dogs, people, or even smells on the floor more interesting than you? Do you have a dog that is great when he's "on" but you totally lose him when he's "off"? Does your dog work well in the living room but have issues in other settings? Are you struggling to find the key to keeping your dog's interest and attention? Do you feel like your dog isn't giving you 100% in training? Does your dog get too high & excited or too slow & careful?
You and your dog need focus! Focus is an often overlooked, but vitally important, aspect of your working relationship with your dog. The goal of focus training is to develop and encourage your dog's interest, concentration, enthusiasm, and commitment to working with you. This will result in increased focus on you and on the tasks and activities that you and your dog do together.
This class is ideally taken early in your dog's career. We consider focus work an important foundation for future training. However, focus work at any age will be a benefit. Instilling focus as a habit will make teaching everything else much, much easier. Focus is necessary for success in all dog sports and activities.
In this class you will learn about the concept of focus, and what you can do to encourage it, increase it, and maintain it.
*The fantastic Char Wood Turner will be the Teaching Assistant for this course. You can communicate with her, and each other, in the Facebook study group. You can join the study group for this course here: https://www.facebook.com/groups/300177953493417/
Here's a trailer for the class: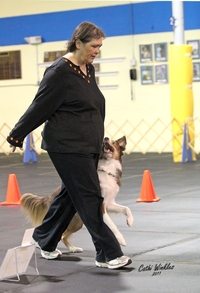 Instructor:
Deborah Jones
Deborah Jones, Ph.D. is a psychologist who specializes in learning theory and social behavior. She taught a variety of psychology courses at Kent State University for the past 20 years. Deb has been training dogs for performance events for the past 25 years and was an early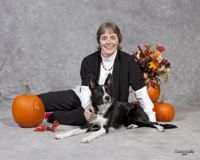 Instructor:
Judy Keller
Judy Keller has owned and trained Shelties for more than 20 years. She has been most successful with Morgan, her once in a lifetime dog. Judy and Morgan represented the United States three times in world agility competition, and were on the gold medal winning mini dog team in 1998.