Course Details
SPECIAL NOTE:
This course will concentrate on the sit/down and stand out of motion exercises in IPO 1-3. We will spend time on each position, exploring how to get fluency and speed in various ways like footwork, shaping and anticipation. We also cover the recall, emphasizing speed in the recall itself and preciseness in the front position, putting those 2 skills (taught in Drives and Control 2) together. Placement of reward to strengthen and maintain the positions, the stays and the recall are also explained.
Students participating in this course will need to have the ability to heel for about 5 paces, a knowledge of shaping and the beginnings of sit/down/stand positions. This class is considered an advanced topic.
For answers to commonly asked questions see our FAQ page.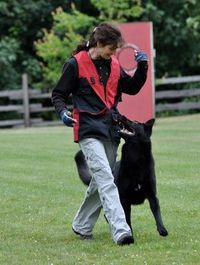 Instructor:
Shade Whitesel
Shade Whitesel (she/her) has been training and competing in dog sports since she was a kid. Always interested in how dogs learn, she has successfully competed in IPO/schutzhund, AKC obedience and French Ring. Her retired dog, Reiki vom Aegis, IPO 3, FH 1, French Ring 1, CDX, was 5th at the...(Click here for full bio and to view Shade's upcoming courses)