Course Details
Not sure which class to take first here at Fenzi Academy? Well, this one is a great place to start!
This class is all about the foundation concepts and skills that will help you succeed on your training journey. This course is a perfect start for your new puppy or for an older dog who needs to build strong foundation skills with positive reinforcement training.
Excellent training using positive and force-free methods requires an understanding of certain key concepts, which is why the lectures will cover the proper use of markers and reinforcers, when and how to add cues, how to change criteria, and using reinforcement schedules. Excellent training also requires the skillful execution of techniques to get behaviors to happen (shaping, luring, targeting), to manipulate and change how behaviors are performed, and to establish generalization.
As we study and apply these concepts and techniques, we'll establish the groundwork for a variety of obedience/rally skills and exercises. We will work on targeting, play, focus, impulse control, recalls, positions, retrieves, and heelwork. We will also introduce platforms and perch work. In addition to the basic class exercises, we will offer you a bonus exercise each week. The bonus exercise will challenge you to take your skills to the next level.
It is expected that students will be working at a variety of different levels from baby puppies to absolute beginners to more experienced positive trainers with young dogs to crossover trainers and dogs. We will help you individualize the work for the level that is appropriate for you and your dog. Once you have taken this class you and your dog will be ready to move forward and continue developing your skills, teamwork, and partnership.
This is an entry level survey course. We will cover what we consider to be the most important foundation skills that you can then use later to build sport-specific behaviors. This course is designed for young teams that are relatively early in their training careers, with or without an experienced trainer!
Teaching Approach: Class materials will be released weekly. You will receive a lecture that covers basic training concepts (for example shaping, targeting, focus...) as well as a document that contains several exercises (for example, touch, impulse control, position changes) and their variations. There will also be a bonus exercise each week for those who are ready for more challenge. There will be written instructions as well as video demonstrations of the exercises. Many of the videos will contain verbal instruction and directions as well. You will practice the exercises and receive feedback from the instructors with suggested changes. Most of these exercises can be completed in small spaces with minimal handler movement.
*This class will have a Teaching Assistant, Char Wood Turner, available for students to consult in the study group. More information will be posted in the Lectures.
Take a look at the trailer for this course.
---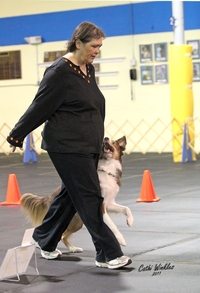 Instructor:
Deborah Jones
Deborah Jones, Ph.D. (she/her) is a psychologist who specializes in learning theory and social behavior. She taught a variety of psychology courses at Kent State University for the past 20 years. Deb has been training dogs for performance events for the past 25 years and was an early...(Click here for full bio and to view Deb's upcoming courses)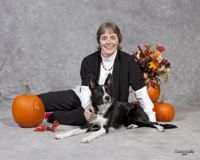 Instructor:
Judy Keller
Judy Keller (she/her) has owned and trained Shelties for more than 20 years. She has been most successful with Morgan, her once in a lifetime dog. Judy and Morgan represented the United States three times in world agility competition, and were on the gold medal winning mini dog team in 1998. (Click here for full bio and to view Judy's upcoming courses)