Course Details
This course picks up where Precision Heeling and Heeling Games leaves off.
Here's a video to give you a sense of the class:
This class is designed to combine precision heeling elements and advanced heeling skills to create the best possible combination of precision and enthusiasm. Significant lecture, video and training techniques will be provided. Each week will introduce a topic (straight lines, turns, etc.).
Concepts from Precision Heeling and Heeling Games will be used in this course. We will NOT review those courses in this class and many of the techniques used here will presume a working knowledge of basic precision and heeling games techniques, including the correct use of discs, pocket hand, "fly," etc.
Here are some of the things that this class will NOT cover, along with where you can find that information at FDSA:
Distraction or disengagement issues: Both of these problems are normally either issues of reduced reinforcement levels or stress related. See Bridging the Gap and Engagement for issues of reduced reinforcement, and Dealing with the Bogeyman and Engagement for issues of stress in public.
For Ring Specific stress: Please see Ring Confidence and Advanced Ring Confidence for Obedience and Rally and Bridging the Gap. (Advanced Ring Confidence is available for purchase as a self study course).
If your dog works beautifully at home but loses attention in public, it is likely that you have either a generalization issues or a stress issue. Please see Bridging the Gap and the Bogeyman class, respectively.
For what this class WILL cover, please see the syllabus tab!
For answers to commonly asked questions see our FAQ page.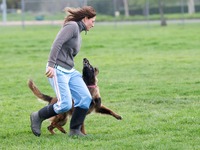 Instructor:
Denise Fenzi
Denise Fenzi (she/her) has competed in a wide range of dog sports – titling dogs in obedience (AKC and UKC), tracking (AKC and schutzhund), schutzhund (USA), mondioring (MRSA), herding (AKC), conformation (AKC), and agility (AKC). She is best known for her flashy and precise ... (Click here for full bio and to view Denise's upcoming courses)