Course Details
Awesome Obedience Workshop Series
Have you experienced crooked or rock back sits on fronts, finishes and halts, bumping on left turns, slow or creeping drops, knocking a jump, early take off or poor jumping style? Did you ever consider that these problems might be physical? This series of workshops will cover conditioning exercises that specifically target obedience skills. The exercises will improve your dog's strength and help prevent injuries. Your dog will learn valuable body awareness skills that will translate to improved performance. The workshops also address handler skills and body awareness and how it affects your dog's performance. Whether you are an advanced competitor or beginner, these workshops will bring your dog's performance to the next level. The activities are low impact and safe for dogs of all ages. The exercises in each webinar are applicable to multiple obedience exercises. Minimal equipment is recommended: perch, platform and fitdisc (or a cushion of some type).
Super Sits & Fantastic Finishes: There are many sits in obedience! Tight, straight sits are critical for good fronts, finishes, halts, and pivots. A rock back sit, sitting on one hip, leaning back or sideways are often the result of tight, painful and/or weak core muscles. By mastering the exercises presented in this workshop, your dog CAN develop a strong, tight and square sit. We will address the around finish and left finish in this webinar. Your dog will learn to understand exactly where their hind end should be for a straight finish. It will clarify to the DOG what a straight sit is. We will also look at how handler body awareness, position and reward delivery impact your dog's sits and finishes.
---
Note: This workshop that has run previously under a different course number, but has been RERECORDED to include new information.
---
Watch the Trailer
---
Lecture Publish Date: Sunday June 4th
Video Submissions Due Date: Sunday June 11th @ 12pm noon PT
Feedback & Questions Video Publish Date: Wednesday June 14th
---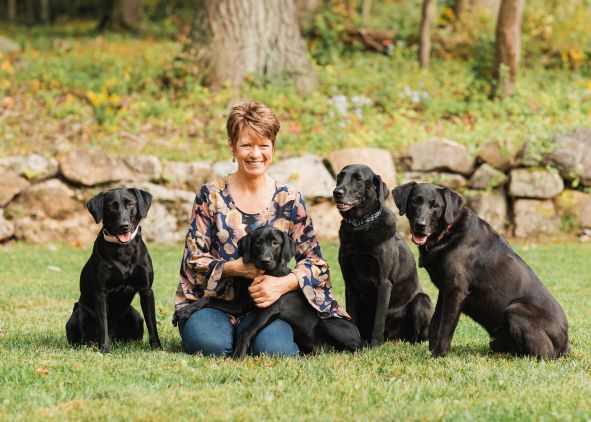 Instructor:
Petra Ford
Petra (she/her) graduated from Rutgers School of Health Related Professions 17 years ago with a degree in physical therapy and has experience working with an extremely varied caseload including pediatric through geriatric clients with a vast range of diagnoses. Her areas of expertise included in-patient rehabilitation, orthopedics and neurology. (Click here for full bio and to view Petra's upcoming courses)