Course Details
Are you tired of trying to come up with or at a loss for new ideas to stimulate your furry friend's little mind? Well, it's time to unleash their inner Einstein with our class on teaching cognitive skills to dogs!
We'll show you how to train your pup to read, yes READ! They'll be reading War and Peace in no time. Okay, maybe not War and Peace, but we'll definitely start with some basic words.
We'll also teach your furry friend how to discriminate shapes like a pro! No more confusing squares with circles or triangles with rectangles. Your dog will be able to identify THEIR shape with ease and find their target spot with precision each time – even lessen conflict over who gets which bed.
But that's not all! Your dog will also learn how to name their objects, specifically their toys like a champ. No more barking at the generic "ball" or "toy". Just ask your dog to go get his XYZ to start the play going.
Plus tell you which colour you just asked for – of course, we're only working with the colours our dogs have no difficulty differentiating. They do after all see colours differently to us humans.
We'll also include some other brain cognition concepts as well for you to try out.
Let's turn your pup into a cognitive mastermind!
Teaching Approach
The class material consists of short lectures and specific cognition games/exercises. Material is provided in both written and video form for visual examples. Videos do not have voiceover. Students will be able to work through materials at their own pace and receive individualized feedback on their progress with time referrals to points in their video submissions. The majority of exercises will be released in the first 4 weeks of class, sometimes twice a week depending on the general progress within the class.
The majority of the exercises can be accomplished in a small space, requiring minimal handler and dog movement.
This class will have a Teacher's Assistant (TA) available in the Facebook study group to help the bronze and silver students! Directions for joining that Facebook group will be in the classroom after you register.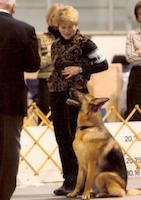 Instructor:
Heather Lawson
Heather Lawson (she/her) is a Certified Professional Dog Trainer - Knowledge Skills Assessed (CPDT-KSA) and also a Karen Pryor Academy Certified Training Partner (KPA-CTP), a CGN evaluator and a free-style judge. She has been training dogs and their humans for more that 20 years after deciding that...(Click here for full bio and to view Heather's upcoming courses)