Course Details
Inaccessible hides don't need to be scary! You don't need to avoid training them. In this workshop series, we will explore HOW to train these skills.
This workshop will focus on the Inaccessible Hide Due to Elevation. Inaccessible Due to Elevation is a fancy way of saying "High Hides". High Hides are challenging because the scent cones are not closed off from the environment and the odor travels farther. Additionally, the concept of the high hide and the timing of the marker can make or break teams in this skill. The handler needs to be able to assess the environment, interpret the dog, and give the dog feedback in a way that helps the dog to learn and to not create problems down the road.
There are two important aspects to training this skill... building the "concept" of the hide hide
and timing of the marker. We will cover the steps to introduce and fine tune your marker use in order to really give your dog and your performance an edge!
Specific topics of the lecture portion will include:
- A bit about air flow and the impact on high hides
- Understanding the value of marker timing for this type of hide specifically
- Discussion about reading the dog's behavior
- Identification of that "AH-HA Moment"
- Steps to introduce this type of hide and things to avoid at all costs
- How and when to abort a high hide
- Examples of application of correct marker timing
---
Note: This is a repeat workshop that has run previously under a different course number. Please review your workshop library to make sure this would not be a duplicate purchase.
---
Watch the Trailer
---
Lecture Publish Date: Sunday Dec 18th
Video Submissions Due Date: Tuesday Dec 27th* @ 12pm noon PT
*Please NOTE this date has been adjusted for the holiday schedule.
Feedback & Questions Video Publish Date: Friday Dec 30th*
*Please NOTE this date has been adjusted for the holiday schedule.
---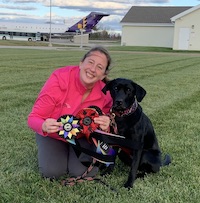 Instructor:
Stacy Barnett
Stacy Barnett is a top nosework competitor and trainer, being the first handler to title multiple dogs with multiple Summit Level titles in the National Association of Canine Scent Work (NACSW), (Judd SMTx3, Brava SMTx2). Stacy has been a faculty member at Fenzi Dog Sports Academy since 2015 (Click here for full bio and to view Stacy's upcoming courses)