Course Details
Do you want to play your favorite game with your buddy but he doesn't want to play with your toy?
Do you have a dog that loves their favorite toy but ignores other toys?
A disc dog that prefers the blue frisbee over the yellow ones? Or covets the slimy, worn, old tug even if you have a brand new one?
Sara will discuss strategies and games to play in this workshop to help level the playing field. Come and learn how to switch toys to whatever toy is in your tool bag, in whichever game you want to play!
Dogs who have toy drive will be most successful as working spots. Tug and fetch will both be used to help build commitment to lower value toys.
Watch the Trailer
---
Lecture Publish Date: Sunday Dec 11th
Video Submissions Due Date: Sunday Dec 18th @ 12pm noon PT
Feedback & Questions Video Publish Date: Wednesday Dec 21st
---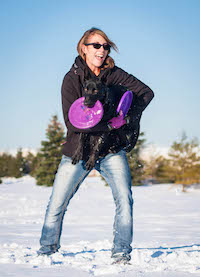 Instructor:
Sara Brueske
Sara Brueske (she/her) has been training dogs for over 15 years, and has experienced a large variety of breeds and sports during that time. Having graduated as a Karen Pryor Academy Certified Training Partner ... (click here for full bio including Sara's upcoming courses)