Course Details
Are you interested in shaping?
Do you even know what 'shaping' is?
Do you want to know what the 5 key skills to shape, that will allow you to shape any sports behaviour or life skill?
Do you want to understand how to use shaping to work through frustration and help your dog develop the ability to 'think in arousal'?
If so, join Kamal Fernandez, long time FDSA faculty member for an in depth look at shaping and help you understand it, or if you currently shape behaviour, get feedback to take your skills to the next level!
This course will cover:
Key skills to shape for any dog sport
Understanding errorless learning
Clean and clear training processes
Working through frustration via shaping
Improve mechanical skills and understand the 5 w's of reinforcement
Teaching Approach
This course will comprise of weekly video lectures detailing the skills to shape, feedback on each skill and understanding how to progress, and how to implement these skills into other behaviours.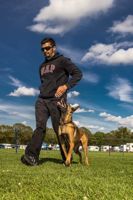 Instructor:
Kamal Fernandez
Kamal Fernandez (he/him) started training in 1991 after getting Scrunch, an independent and free-willled chow-chow mix. Like many other first-time dog owners, Kamal found himself in for a rude awakening when he got her – Lassie she was not! You name it, Scrunch did it – ...(Click here for full bio and to view Kamal's upcoming courses)