Course Details
When the dog searches, they paint a story about how a hide is presenting and how the odor is behaving. If you pay close attention, you can glean critical tidbits that can tell you about the potential location of the hide. How your dog works the odor can turn you into a detective as you piece together the clues. Ultimately, when the dog finds the hide, you will have total confidence in your Alert call.
This goes beyond "reading the dog". This is "reading the dog's interpretation of the hide". Learning to gather clues will make you a more confident handler who can call Alert and confidently call Finish.
In our conversation, we will explore how different hides might present and what the dog's communication tells us. We will learn how the dog paints a picture of elevated odor, size of the scent cone, pooling odor, and odor that is affected by both thermal forces and wind. We will reveal how the location of the dog's behavior with respect to the search area topography and the weather gives us clues about the hide.
This information is critical for competitors who wish to understand and unlock the secrets of odor in both a competitive and training context.
---
About the Instructor: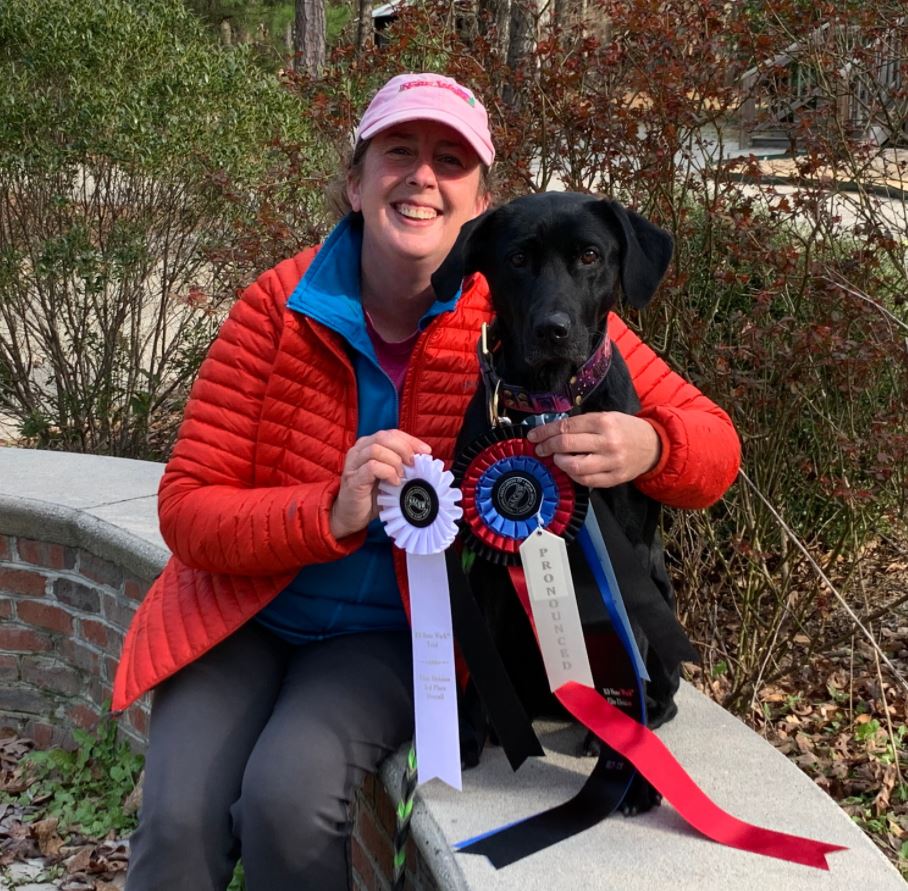 Stacy Barnett (she/her) is a top nosework competitor and trainer, being one of only a few handlers to title multiple dogs at the Summit level (Judd SMTx3, Brava SMT) with the National Association of Canine Scent Work (NACSW). Stacy has been a faculty member at Fenzi Dog Sports Academy since 2015 and is an international clinician for seminars around the world. She is a licensed Judge for for AKC Scent Work where she was also retained in an advisory position for the AKC Scent Work program for 2 years. Stacy is the author of the popular blog, Scentsabilities Nosework, hosts weekly educational webinars, and co-hosts the K9 Detection Collaborative Podcast.
With her degree in Chemical Engineering and her understanding of fluid flow dynamics, she has a deep understanding of odor movement. She believes in utilizing Scent Theory and odor to educate and craft the highly competitive nosework dog as well as bringing enrichment to dogs using Nosework as an activity to build confidence. She prides herself in being able to bring creative solutions to build odor obedience, confidence, drive, and motivation for the sport. Her mantra is CONFIDENCE, MOTIVATION, SKILLS and STAMINA.
Stacy's approach to training goes beyond just setting Nosework hides. She takes an approach that cares for both the emotional and the cognitive aspects of the dog in order to help bring out the dog's full potential. Her approach is not only reflected in her own dogs' successes but also in her students. Stacy truly finds joy in tapping into a dog's desire to search and to communicate with the handler.
Stacy loves helping others and her enthusiasm for the sport is contagious. Even greater than her love for the sport is her love of teaching. She prides herself on being a highly creative, enthusiastic and caring instructor, easily able to teach all levels of Nosework students. Stacy loves seeing teams flourish in the sport and enjoy what has become an extremely popular outlet for all dogs.