Course Details
Consistent. Reliable. Confident.
We've all seen those dogs who seem to have a perfect understanding of the job they're being asked to do — whether in the obedience ring, working as a therapy dog, or that go-anywhere-do-anything companion.
Want a dog that can work as you walk through a flock of chickens? That can hold their stay as the kids dash out the door? Or that wags their tail while the judge follows behind you in the ring?
The secret is strategically proofing each of those behaviors.
Do any of these sound like you?
You've got the behavior down pat in your living room, but once you get outside it completely falls apart.

You want to try the agility, rally, or obedience ring, but have no idea how to get from your living room to a precision performance in the ring.

You just want your dog to listen while you visit the lake or your friend's house.
If so, this class will teach you to take the behaviors you have and strengthen them so your dog can perform them reliably in many places and situations.
You'll learn how to systematically layer in distractions in a way that makes the behavior stronger, without setting the dog up to fail.
The word "proofing" sometimes has a negative connotation in dog training, but this class will show you how to use proofing to inspire confidence and resilience in your dog. We'll also talk about generalization, the process of teaching your dog that the criteria for behavior is the same regardless of what the picture looks like.
Each team will work on a handful of behaviors that can be easily performed in a familiar place with reinforcement present. Working teams need to have 5-6 solid behaviors and the ability to train in several different environments. Once the class is finished, the student will have a blueprint for how to train any behavior to fluency.
For those who plan to compete in obedience and/or rally, I've included lectures specifically on preparing for the ring. Having a few feet of some sort of "gates" and some chairs or tables will be beneficial for those wanting to compete.
----
This class is the perfect one to follow Connect and Engage with Games. The PROOF is in the Training will take the concepts learned in that class and add behaviors to the picture. Connect and Engage is NOT a pre-requitsite, but if you took the class and am wondering about next steps, this is your answer.
Note: We won't cover reducing reinforcement in this class — for that I'd recommend Shade's class, Cutting Out the Cookies. Our focus will be on building strong behaviors in any environment!
Teaching Approach
Lectures will be released weekly on the first day of the week. They will be a mixture of concept-based lectures and instructional lectures written out with video examples. The videos will not need to be heard in order to be understood. Most videos will be short, under 2 minutes. For the instructional lectures, homework will be outlined at the end of each lecture. Supplemental lecture and videos will be posted as needed. This class would work well for students preferring lectures with step by step instructions and video examples.
This class will have a Teacher's Assistant (TA) available in the Facebook study group to help the Bronze and Silver students! Directions for joining will be in the classroom after you register.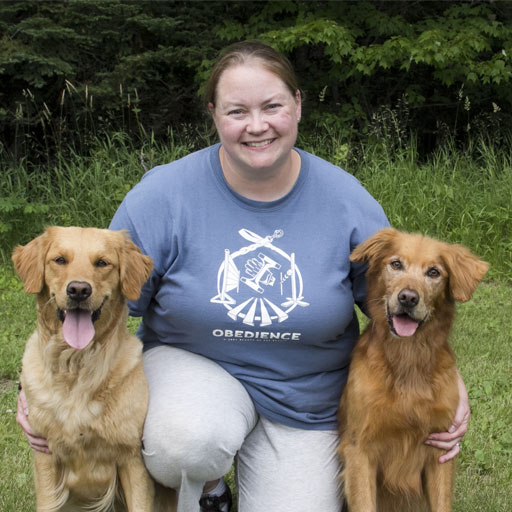 Instructor:
Nicole Wiebusch
Nicole Wiebusch CPDT-KA (she/her) has been competing in dog sports for over 25 years. Starting in 4-H, Nicole quickly became addicted to the sport of obedience and has been showing in obedience, rally, and agility ever since. (Click here for full bio and to view Nicole's upcoming courses)