Course Details
Many people don't understand the importance of conditioning until their dog has suffered an injury. They feel that participating in dog sports IS conditioning. That couldn't be further from the truth. ALL dog sports require specific conditioning to prevent injuries and to ensure that your dog is performing optimally and comfortably. Many dogs are physically uncomfortable or in pain but will continue to work because they love it and want to please us. Something slightly off in your dog's performance? Often it is physical and it's not picked up by conventional medicine. Want to optimize your dog's performance? ALL performance dogs are athletes and all athletes require a conditioning program! It doesn't have to be complicated, time consuming or require a lot of equipment. By evaluating your dog's structure, current fitness and the specific demands of their sport we can developed a streamlined, personalized program. We will look at exercises that can easily be done at home with a minimum of equipment. Quality over quantity is my mantra! Many people are "conditioning" their dogs but just like with human core work, form is of paramount performance. Exercises done incorrectly can actually cause injuries. Whether you are playing sports just for fun, a novice competitor or seasoned team, conditioning should be part of your routine. The best part is that dog's love it!!
Required Equipment:
A platform that is longer than when your dog is standing; wide as your dog's legs when it sits
Perch that is not slippery – For example a rubber Feed Tub sold at Tractor Supply
Recommend but not necessary: 24" Fit disc for most dogs; very small dogs can use a 13" disc
Teaching Approach
Lectures and videos will be released on a weekly basis. Instructions are provided in both written form and with short videos. Mechanics and technique are important with the skills in this class placing importance on the videos. Key points of the videos will also be provided with bullet points. Students will work through materials at their own pace and get individualized feedback on their progress.
For larger dogs many of the exercises will require you to bend down. Students with physical considerations can sit in a chair. With medium and smaller dogs several of the exercises can be done on a grooming table (or any table with a non-slip surface). The stretching exercises will be done either on the floor, or you can modify by putting the dog on your bed, a table or raised surface. I'm happy to help Gold students with modifications. Most of the conditioning exercises can be performed indoors or outdoors in a small area. They must be done on a non-slip surface. I can help adapt the exercises for working students.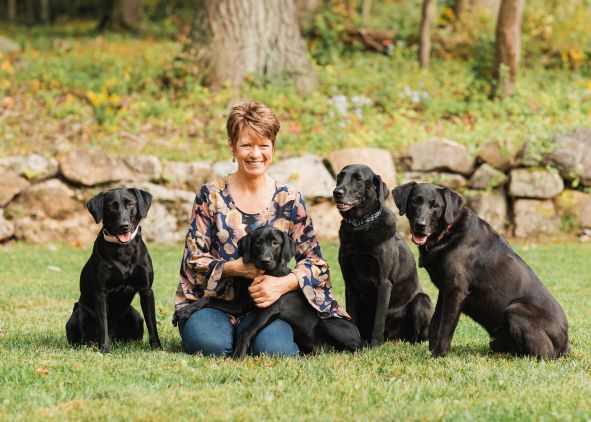 Instructor:
Petra Ford
Petra (she/her) graduated from Rutgers School of Health Related Professions 17 years ago with a degree in physical therapy and has experience working with an extremely varied caseload including pediatric through geriatric clients with a vast range of diagnoses. Her areas of expertise included in-patient rehabilitation, orthopedics and neurology. (Click here for full bio and to view Petra's upcoming courses)