Course Details
Sit! Down! Stand! Does your sport require position changes either in heel, front, or both? How about moving positions? This class will cover it all! If you want quick responsive position changes in all situations, you've come to the right place!
Here are a few positions we'll cover in class and the common exercises they are required for:
-Basic Position Changes in Heel for Rally or Obedience (sit, down, and stand)
-Command Discrimination and Signals (position changes in front at a distance).
-Drop on Recall, Moving Down (moving down position in front and heel)
-Moving Stand (moving stand position in front and heel)
-Moving Sit Portion of the Directed Jumping Exercise and Send to Cones in Rally (moving sit position while dog travels away).
Topics covered in class will include props, mechanics of the position changes, considerations for certain ways of doing position changes, how to keep the dog from moving forward, teaching the dog to be straight in heel position, adding or fading hand signals, and more!
Whether your dog is brand-new to position changes or you want to take what you have and incorporate it into the formal rally and obedience exercises, this class is for you!
Trailer:
Teaching Approach
This is a skill-based class. Lectures are released once weekly. Each week there will be a variety of short skill lectures which contain step by step instructions that are written out followed by video examples. Most videos are short but some may be up to a couple minutes. The videos do not require the ability to hear them in order to understand what's going on. For each skill lecture, the suggested homework is listed on the bottom of the lecture. This class will work best for students who enjoy reading text lectures and watching videos that demonstrate the steps detailed in the written portion of the lecture. The steps for teaching each skill are broken down and laid out in a structured way.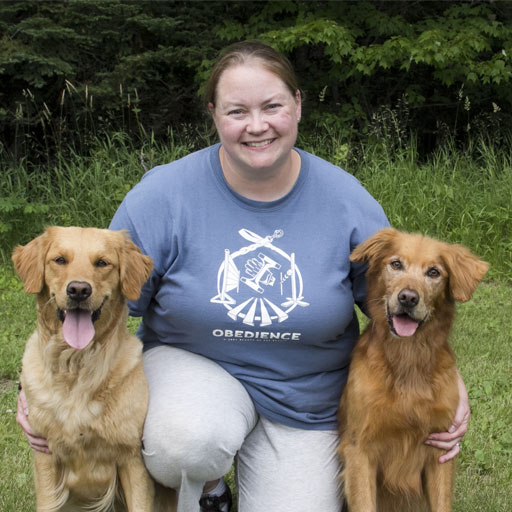 Instructor:
Nicole Wiebusch
Nicole Wiebusch CPDT-KA (she/her) has been competing in dog sports for over 25 years. Starting in 4-H, Nicole quickly became addicted to the sport of obedience and has been showing in obedience, rally, and agility ever since. (Click here for full bio and to view Nicole's upcoming courses)