Course Details
Are fronts and finishes essential to your sport? Do you have a young pup who needs to learn these important skills, or an already-trained dog who could use a refresher? Maybe your dog is getting a little burned out because you're working too much on precision and not as much as fun.
If so, you've come to the right place!
During this class we'll break down both the front and finish exercises into tiny little pieces to give your dog the skills and help the dog understand exactly how to perform both behaviors. We will build up the skills through lots of fun games so your dog learns that fronts and finishes are FUN!
Although our emphasis will be on enthusiasm and attitude, we will also teach the dog how to be accurate by splitting the behaviors into fine little chunks that are easily mastered. We'll work on some body awareness exercises that will help the dog maneuver into the correct positions.
As you rise up through the levels of performance sports, fronts and finishes become more numerous and more difficult. Ensure that your dog's foundation is solid so you can focus on having fun!
Trailer for this class:
Teaching Approach
Lectures will be released on the first day of each week. Lectures contain written instruction with demonstration videos of each skill. The vast majority of the time, videos do not need to be heard. For the rare occasion that there is relevant speaking in the video, the lectures will clearly outline everything that is being said. Most videos are in between 20 seconds and 2 minutes. Homework is outlined at the end of each lecture. Supplemental lectures and videos will be posted as needed. This class will work best for students who prefer reading written step-by-step material accompanied by short videos for demonstration.
This class will have a Teacher's Assistant (TA) available in the Facebook study group to help the bronze and silver students! Directions for joining will be in the classroom after you register.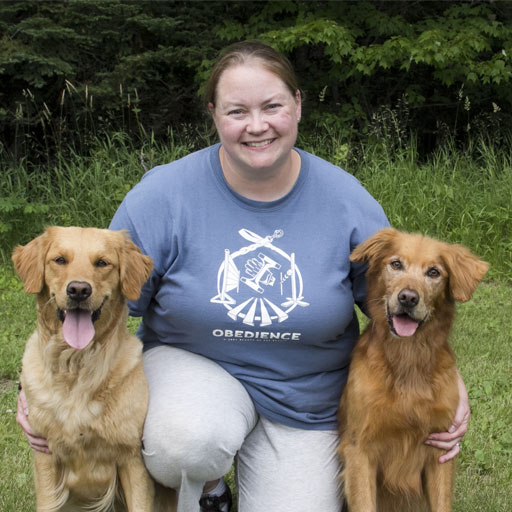 Instructor:
Nicole Wiebusch
Nicole Wiebusch CPDT-KA (she/her) has been competing in dog sports for over 25 years. Starting in 4-H, Nicole quickly became addicted to the sport of obedience and has been showing in obedience, rally, and agility ever since. (Click here for full bio and to view Nicole's upcoming courses)