Course Details
You enter your sport ring/field, dog heeling by your side. When the exercise comes, you leave them on a specific position and walk away. You cue each position change, and your dog executes them perfectly with paws steady. Full points!
Recall: You leave the dog on their stay, walk away, turn around and on the judge's signal, call your dog. They leap into a run and slow down just enough to slide into a perfect front position, head up, perfect steady sit. More Full points!
Other versions of your trial-nightmare anyone?
Your dog stares at you the whole time, frozen in one position. Ever had that happen?
Or you need 3 cues for each new position change- a DQ in many sports.
Or your dog does the position changes, but leaps forward or take steps forward with each change-another DQ in many sports depending on how much forward.
Or, on the recall, your dog walks to you from across the ring. Or doesn't come at all. Or blows past you!
I can help!
Let's teach each position as a movement, choosing either back or front feet anchored. Let's use luring/shaping/offering/platforms to get each change, and add the distractions of distance, handler movement and environment little by little.
And because that's a lot of preciseness, let's add an exploding recall in there to spice things up. (sliding into a perfect tuck sit in front of course-more preciseness!)
I'm structuring this class so that it can be a foundation skill for many different sports. AKC open and utility, FCI obedience, French and Mondio ring and IGP all have position changes in some form. I'm expecting students to know the rules of their own sports, and to come in with an idea of what is expected, sports specific, as judging varies.
So, a couple reality checks. Realistically it takes more than 6 weeks to get good position changes, and a good front position from the recall. I'm expecting students to come in with a variety of experience, from brand new to wanting to polish up what they already have. The dogs also have to have the conditioning, the strength and the fitness level to do what the student wants them to do. Dogs should be over 6 months old at bare minimum, and handlers should have an idea of luring and shaping training methods.
Teaching Approach
I honestly haven't decided yet! I tend to like to release a lecture a day, because we tend to get overwhelmed when a majority of the material is released all at once. But, I'm unsure what level gold students will be at, and I want students to be able to work at their own pace.
My lectures consist of written instructions, bullet points, with short videos illustrating those points. I don't instruct in the videos themselves.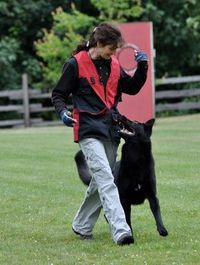 Instructor:
Shade Whitesel
Shade Whitesel (she/her) has been training and competing in dog sports since she was a kid. Always interested in how dogs learn, she has successfully competed in IPO/schutzhund, AKC obedience and French Ring. Her retired dog, Reiki vom Aegis, IPO 3, FH 1, French Ring 1, CDX, was 5th at the...(Click here for full bio and to view Shade's upcoming courses)