Course Details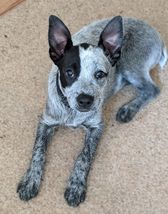 Dog on the Go
One of the greatest joys of owning a dog is involving that dog in your everyday life. A well-behaved dog can become the perfect partner for hiking, walks around town and trips to dog-friendly restaurants and shops. The dogs that are involved in these type of activities are less likely to develop problem behaviors at home as well as these outings will provide mental stimulation as well as physical exercise.
Most dogs need a bit of help to become good citizens in our communities. There's nothing more embarrassing than bringing your dog to the cafe just to have them lunge at every person or dog that passes by or steal food off of your neighbor's table. It is our job to teach them what they need to know in order to not be a nuisance in public spaces as well as an easy partner to amplify the enjoyment of these activities.
This course will discuss what makes a dog a good candidate to bring into public spaces, the signs to watch for that let you know your dog is comfortable, proper doggy etiquette as well as how to train behaviors that will help make your dog a public-setting expert. The behaviors we will cover in this course are designed for all sorts of different public outings from outdoor dining, to walks around town and even watching your kid's soccer match.
These behaviors include the benefits of "passive socialization", teaching your dog when to say "hi" and when to ignore, loose leash walking, settle under the table and "leave it".
This course is suitable for dogs of all ages, it's never too early or too late to start learning public manners! We will not be discussing aggressive or reactive dogs in this course. "
Watch the Video Trailer with Sample Clips: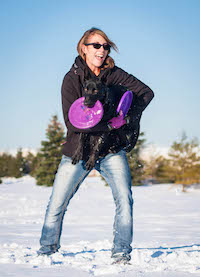 Instructor:
Sara Brueske
Sara Brueske (she/her) has been training dogs for over 15 years, and has experienced a large variety of breeds and sports during that time. Having graduated as a Karen Pryor Academy Certified Training Partner ... (click here for full bio including Sara's upcoming courses)