Course Details
Are you a little intimidated by the master signs, with all those spins, sends, and signals? Don't be! The rally master class is a blast for you and your dog. If you've both been enjoying rally to this point, jump into the master class and get ready to have even more fun!
In this class, you'll learn how to teach your dog all those fun rally moves. There will be detailed lectures with lots of video examples of how to teach every skill you'll need for master rally. In addition, you will learn how each master sign is to be performed correctly. Learn to avoid common errors as you view lectures with descriptions, videos, troubleshooting tips, and more! Finally, we'll discuss the rules and challenges particular to the master level of AKC rally.
Rally is quickly gaining popularity and the addition of the master class, plus the championship titles and the national competitions, makes it a great sport for those wanting to compete at higher levels. Join me today to see how fun master rally can be!
Check out this video of me and Strive in a recent rally master class.
We earned a perfect score of 100 and 1st place with this run.
Trailer for RA330:
Teaching Approach
This is a skill-based class. Lectures are released once weekly. Each week there will be a lecture describing the signs that we are covering for the week, in which there will be both written descriptions and video examples. Short skill lectures will also be included each week, which contain step by step instructions that are written out followed by video examples. Most videos are short but some may be up to a couple minutes. The videos do not require the ability to hear them in order to understand what's going on. For each skill lecture, the suggested homework is listed on the bottom of the lecture. This class will work best for students who enjoy reading text lectures and watching videos that demonstrate the steps detailed in the written portion of the lecture. The steps for teaching each skill are broken down and laid out in a structured way.
This class will have a Teacher's Assistant (TA) available in the Facebook study group to help the bronze and silver students! Directions for joining that Facebook group will be in the classroom after you register.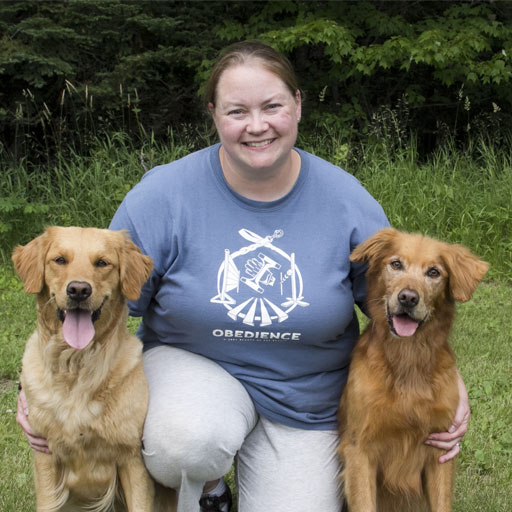 Instructor:
Nicole Wiebusch
Nicole Wiebusch CPDT-KA (she/her) has been competing in dog sports for over 25 years. Starting in 4-H, Nicole quickly became addicted to the sport of obedience and has been showing in obedience, rally, and agility ever since. (Click here for full bio and to view Nicole's upcoming courses)