Course Details
Did you know that you can now title your dog in Tricks?! Tricks aren't just for fun anymore and this isn't just another tricks class! Tricks have so many purposes including teaching your dog to enjoy training, sharpening your skills as a trainer and improving your working relationship with your dog. This class will help guide you through teaching all of the tricks needed to achieve your Trick Dog Novice, Trick Dog Intermediate and Trick Dog Advanced titles.

The tricks in this class are broken into six different categories. We'll start by focusing on the novice-level tricks for each category and work on building those into the tricks needed for the intermediate and advanced levels.

There is an option for Gold students to earn AKC Trick Dog Titles at the end of this course (additional fee paid to the AKC required).

Your dog does not need any prior training knowledge for this class, but it is very helpful that your dog is food-motivated.

Teaching Approach
The teaching approach for this class is comprised of written lectures and short video demonstrations. Videos will have captions. Instructor feedback is focused on the positive while looking for one or two aspects of the exercise to improve at a time. Instructor prefers to use the unlimited time format for Gold spots (unlimited videos under 60 seconds), however Gold spots can choose to do a 6 minute cap with unlimited video length if it works better for their schedule.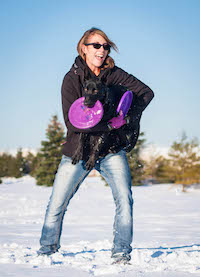 Instructor:
Sara Brueske
Sara Brueske (she/her) has been training dogs for over 15 years, and has experienced a large variety of breeds and sports during that time. Having graduated as a Karen Pryor Academy Certified Training Partner ... (click here for full bio including Sara's upcoming courses)